23 June, 2021
Accessibility Information for 12 Trans Canada Trail Sections Now Available in AccessNow App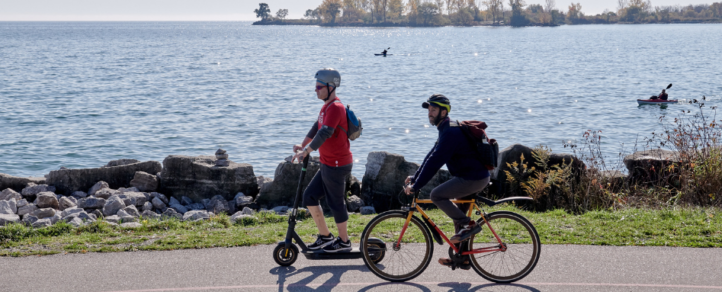 We are increasing accessibility on the Trans Canada Trail!
Along with our partners AccessNow, we are pleased to share that the first phase of our trail accessibility mapping project is complete and the updates are now available in the AccessNow app!
When we announced this exciting initiative earlier this year, we knew that it had the potential to make a big impact on how people use the Trail across the country.
Over the past several months, we worked together with the Canadian Paralympic Committee on this important initiative, with a goal of taking concrete action to improve accessibility on the Trans Canada Trail.
A group of Paralympians and Para athletes mapped the accessibility of Trans Canada Trail sections across the country from the perspective of their own lived experience. This included trails in ten provinces and one territory:
– Bow River Pathway, Calgary, AB (Cody Dolan)
– Capital Pathway, Ottawa, ON (Camille Bérubé)
– Confederation Trail, Charlottetown, PEI (Alan Stanley)
– The Forks and North Winnipeg Parkway, Winnipeg, MB (Colin Mathieson)
– Western Loop – Harvest Moon Trailway, Annapolis Valley, NS (Ben Brown)
– Les Grandes-Fourches, Sherbrooke, QC (Diane Roy)
– Millennium Trail Connector, Whitehorse, YT (Tanelle Bolt)
– Pan Am Path, Toronto, ON (Andrew Haley)
– Quidi Vidi Lake Trail, St. John's, NL (Liam Hickey)
– Riverfront Trail, Moncton, NB (Matthew Kinnie)
– Stanley Park, Vancouver, BC (Richard Peter)
– Wascana Valley Trails, Regina, SK (Jessica Frotten)
Thanks to the AccessNow platform and technology, people have access to a navigational resource to discover trail accessibility. The app can be downloaded/updated via Apple's App Store or Google Play.
Stay tuned because plans are already underway for the next phase of the initiative, which will see additional trails mapped across the country.