1 February, 2016
An Exceptional Volunteer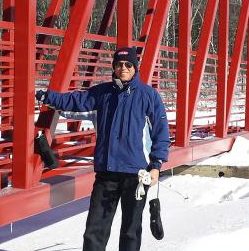 He's a hiker, a biker, a runner, a financier and a Nova Scotia trail blazer who has made a formidable voluntary and financial contribution to the development of the Trans Canada Trail (TCT) in the Atlantic region since 2001.
He is also a devoted family man and, co-CEO of Oxford Frozen Foods, the world's largest supplier of frozen Wild Blueberries and Canada's largest processor of frozen carrot products.
Meet David Hoffman, President of the Oxford & Area Trails Association in Nova Scotia; former member of the TCT Board of Directors and present member of the Board of Directors of the TCT Foundation.
TCT: Why and how did you first become involved with the Trans Canada Trail?
DH: I have always been a hiker. Exploring the outdoors and walking are longstanding passions. I love to bike and run on the Trail. I really enjoy physical activity on the Trail. In 2001, when the TCT was being built in Nova Scotia (NS), I was invited to take on a role as TCT Board representative for Atlantic Canada.
The first TCT Board meeting I attended was in Whitehorse, Yukon – a spectacular part of the world. Working with the TCT Board offered me an invaluable perspective on the national scope of the Trail.
I have a finance background so I got involved with the Board's finance committee. I served as Treasurer and a member of the Trail building committee. I became very interested in optimizing the operational aspects of national trail building.
TCT: When did you join the TCT Foundation and why?
I joined 4 or 5 years ago to raise money to connect and enhance the TCT. I lead fundraising efforts for the Maritimes and I ensure that donor wishes to designate gifts locally or provincially are ensured.
TCT: Tell us about the joys and challenges of Trail building in NS and about the Oxford & Area Trail?
We have terrific trails in NS. This week, our community is completing one of the two bridges in the Oxford area that will connect and span from Tatamagouche on the NS side to the border of New Brunswick. The existing trail follows the old abandoned railway bed that comes in to Nova Scotia from the New Brunswick border. You can enjoy spectacular trails around Sackville, NB which also lead to Prince Edward Island.  The Oxford bridge has a 200 ft. span. A crane will be here shortly to lift it onto abutments on both sides.  We have worked hard to raise a lot of money locally to accomplish this. We have faced challenges on every level. Finally, the bridge will be in place and phase one will be complete. It's a huge step forward.
TCT: Who is involved with this project?
An incredibly dedicated group of volunteers. We meet every month and once or twice in between. I think it's been like this for the past two or three years. Committed volunteers oversee technical details, plan and lead approvals from landowners and engineers. It's remarkable.
TCT: What are your favourite sections of the TCT outside of NS? Where would you like to travel to next and how would you like to get there?
DH: I have hiked the TCT in every province.  I would like to do more hiking out West, in the mountains on the old trestle bridges.  I would like to explore more of British Columbia, the interior. And, the Northwest Territories.
TCT: You are a busy man.  What sustains your commitment to connecting the Trail by 2017 and beyond?
DH: Working with the TCT fulfills me on 3 levels. I derive pleasure from personal use and being on the trails. I am inspired by the vision of connecting diverse communities through the Trail and by the national aspiration that this project represents.  To me, Canadians working together to build the TCT is a reflection of everything that is good or can be good about Canada.  We are building a legacy that will be enjoyed by our kids and their grandkids for many years.