31 May, 2017
Big Canoes on The Great Trail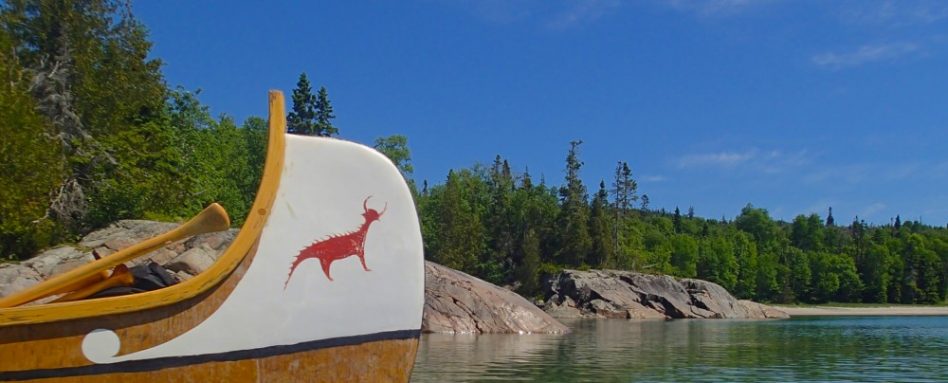 The north shore of Lake Superior has served as a great water trail for millennia. The big lake was a highway for First Nations people; later, it was a liquid corridor for the fur trade, Canada's first industry. Two hundred years ago, brigades of 36-foot birchbark "canots-de-maitre" traced the Lake Superior's rugged coastline, transporting furs and trade goods among a network of remote trading posts. Colourful French-Canadian voyageurs became folk heroes and the canoe emerged as a Canadian icon.
Today, big canoes remain one of the best ways to experience the stunning Lake Superior Water Trail section of The Great Trail. Naturally Superior Adventures, based in Wawa, Ontario, is organizing the Lake Superior Voyageur Canoe Brigade: Six guided, all-inclusive wilderness journeys by replica voyageur canoes on The Great Trail. Each journey will include up to 12 participants ("milieu" in voyageur speak) and experienced guides. The adventure consists of 5- to 10-day legs, starting July 2 in Lake Superior Provincial Park and finishing August 19 at Old Fort William Historical Park, near Thunder Bay.
Besides full outfitting, gourmet meals and expert guiding, the Lake Superior Voyageur Brigade includes several guests of honour: Becky Mason, distinguished artist and daughter of legendary Canadian canoeist, filmmaker and artist Bill Mason; author and canoe personality Kevin Callan; and fur trade historian and folk singer Rodney Brown.
This summer, plan to live like a voyageur on Canada's Great Trail.
---