11 August, 2022
1 Canada Summer Games Torch, 9 Communities, 24 Torchbearers, and 1000s of Smiles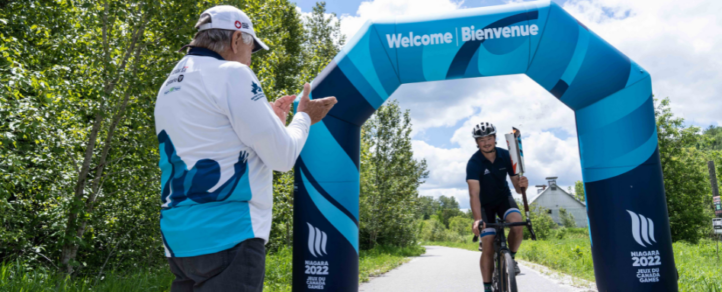 On June 6, the Niagara 2022 Canada Summer Games Torch Relay Journey officially began its 60-day, 1,200-km trek by foot, bike and boat across 21 communities in Quebec and Ontario, which included – for the first time ever – several sections of the Trans Canada Trail.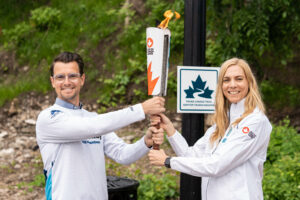 The torch-lighting ceremony kicked off nine celebration events along the Trail and we extend our thanks to all the Torchbearers who took part in this momentous event as part of Trans Canada Trail's 30th anniversary celebrations:
June 6 – Ottawa, ON
Michael Lindsay (Chair, Trans Canada Trail Board), Emma Mohns (Director, Trans Canada Trail Board), Pascale St-Onge (Minister of Sport and Minister Responsible for the Economic Development Agency of Canada for the Regions of Quebec), Adam van Koeverden (Parliamentary Secretary to the Minister of Health and to the Minister of Sport)
June 7 – Wakefield, QC
Irene Richardson (Director, Sentiers Wakefield Trails), Guillaume Lamoureux (Mayor of La Pêche), Sophie Chatel (Member of Parliament, Pontiac)
June 8 – Messines, QC
André Benoit (City Councillor, Messines), Jocelyne Lyrette (acting prefect for Gatineau Valley RCM)
June 9 – Mont-Laurier, QC

Theland Kicknosway (Indigenous youth trailblazer from the Potawatomi & Cree Nations), Bernard Pilon (former Director, Le P'tit Train du Nord), Dr. Hugh Scott, MD, (former Trans Canada Trail Board member) accompanied by granddaughter Léa Scalabrini
June 10 – Mont-Tremblant, QC
Catherine Drouin (Municipal Councillor, Ville de Mont-Tremblant), Marcel Castonguay (Chair, Mission Services at Canada Games)
June 11 – Mont-Blanc, QC
Marc L'Heureux (Prefect of Laurentians RCM), Richard Senécal (Executive Director, Conseil québecois du sentier Transcanadien)
June 12 – Saint-Jérôme, QC
Marc Bourcier (Mayor of Saint-Jérôme)
June 13 – Terrebonne, QC
Mathieu Traversy (Mayor of Terrebonne), Michel Thivierge (President, Club des routiers équestre), Bruny Surin (Olympic Champion Sprinter and 1985 Canada Games alum)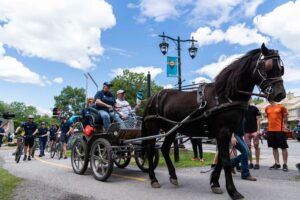 June 15 – Montreal, QC
Jean-Luc Caillaud (President, Conseil québécois du sentier Transcanadien), Simon Lanoix & Julie Chatelain (Trans Canada Trail Pathfinders), Magali Bebronne (Program Director, Vélo Québec), Yajaira Collante (Assistant Treasurer, CSL Group)
We were proud to partner with the Niagara 2022 Canada Summer Games to celebrate sport, engage people from the region and beyond, and cheer on our athletes at the Games!
Thank you to everyone who participated!