29 August, 2023
A Step Towards Connecting the Longest River Valley Pedestrian Trail in North America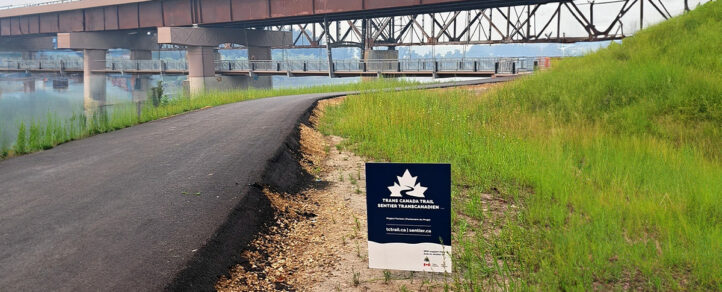 The Highway 15 underslung pedestrian bridge is now open, and it's part of the Trans Canada Trail
On July 31, members of the River Valley Alliance (RVA) were joined by the Honourable Randy Boissonnault, Trans Canada Trail's President & CEO Eleanor McMahon, Fort Saskatchewan Mayor Gale Katchur and Sturgeon County Deputy Mayor Dan Derouin to mark the official opening of the Highway 15 underslung pedestrian bridge. 
Connecting people and communities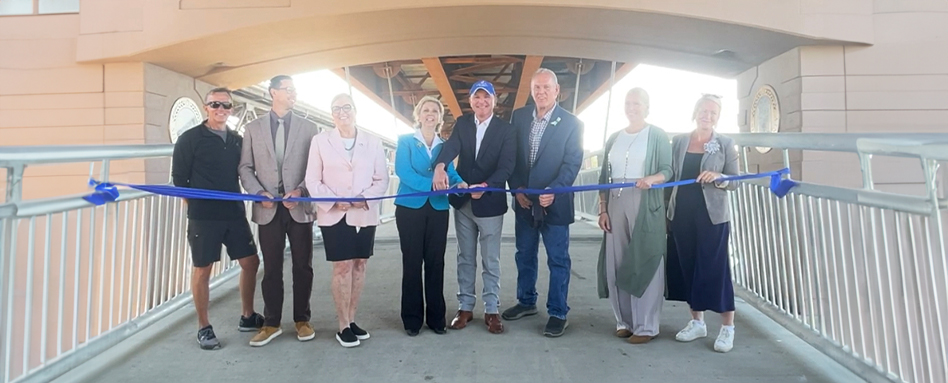 The pedestrian bridge is a major component of the RVA's plan of action to connect a 100-kilometre river valley trail – the longest river valley trail in North America.  
A brand-new addition to the Trans Canada Trail network, the pedestrian bridge connects the Athabasca Landing Trail and River Valley Alliance Amisk Wacîw Mêskanaw Beaver Hill Road – Fort Saskatchewan, which are part of the Amisk Wacîw Mêskanaw trail network. It will serve as a pedestrian and cyclist route for commuters and a link for outdoor recreation enthusiasts to trails and transportation routes along both the east and west sides of the river. It will eventually connect to trails in Devon, 100 kilometres away. 
A project that was years in the making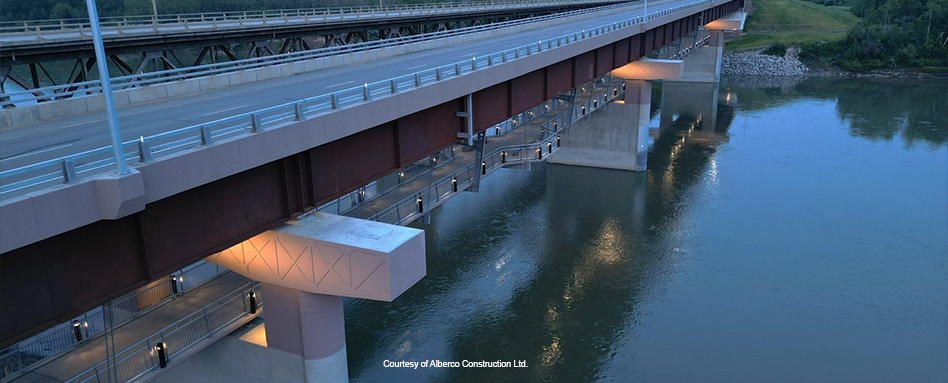 Constructing the pedestrian bridge was a major undertaking and included substantial funding from government and other parties, including Trans Canada Trail and our supporters Sherritt International, Gibson Energy, Pembina Pipeline Corporation and Dow Canada. 
Eleanor McMahon says, "Connecting people and communities is at the heart of our work at Trans Canada Trail and is central to our network – the world's longest – which includes the Amisk Wacîw Mêskanaw trail. We were thrilled to contribute to the new Highway 15 underslung pedestrian bridge that creates opportunities for visitors to explore even more of this area's beautiful natural landscapes, as well as new options for daily walking and cycling trips. We look forward to the continued collaboration that has shaped this project thus far, and to continue to advance the vision of the River Valley Alliance to create the longest river valley pedestrian trail in North America." 
The new pedestrian bridge is a testament to the River Valley Alliance's commitment to excellent trails in Alberta; we value our strong relationship and our shared dedication to supporting active transportation and trails in the region and beyond, as we steward and grow Canada's iconic trail network. 
If you're a resident of the Edmonton area or visiting the region, be sure to check out this beautiful new Trail section!