2 August, 2013
New Alberta Trail highlights Canada's agricultural heritage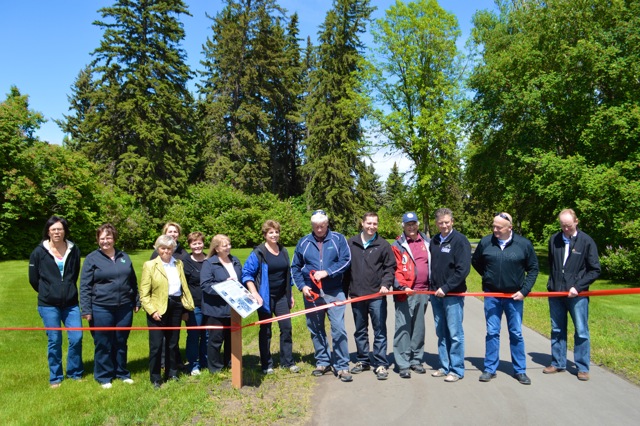 From left to right: Carol Simpson, Town of Blackfalds Councilor; Melody Stol, Mayor of Blackfalds; Betty Ann Graves, TCT board member; (behind) Dana Kreil, Lacombe County Councilor; Paula Law, Deputy Reeve Lacombe County; Linda Strong-Watson, executive director of Alberta TrailNet; Debbie Olsen, President Central Alberta Trails Network; Ken Wigmore, Reeve Lacombe County; Rod Fox, MLA; Cliff Soper, Lacombe County Councilor; Blaine Calkins, MP; Kelly Turkington, Acting Director of Operations, Lacombe Research Centre; Reuben Konnick, City of Lacombe Councilor.
A unique Trail opened in Central Alberta on June 15: The eight-kilometre Lacombe County Trail is a fully paved path stretching through rural countryside to connect the towns of Lacombe and Blackfalds, and features interpretive signage, a boardwalk and a gazebo.
Trail-opening celebrations took place at the Lacombe Research Centre, a 106-year-old Agriculture Canada facility that sits in one of the densest and most diverse livestock production regions in the country.
TCT board member Betty Anne Graves, MP Blaine Calkins (Wetaskiwin), MLA Rod Fox (Lacombe-Ponoka) and Lacombe County Reeve Ken Wigmore spoke at the event and heard from enthusiastic Trail users and builders about the importance of this Trail to their community.
Debbie Olsen, president of the Central Alberta Regional Trails Society, commented on the significance of the Lacombe County Trail in the bigger picture of Trail building in the province.
"Lacombe County is a leader amongst rural municipalities when it comes to trail development in rural Alberta," Olsen said. "There have been other rural trails developed in our province, but none built to this standard and none in a highly populated area.
"We have certainly appreciated the support of TCT and Alberta TrailNet in making this Trail a reality and we are hoping this success will help to spur on Trail development in rural municipalities through the prairies."
Some of the interpretive signage was created by Grade 5 students, who researched and wrote about the local flora and fauna; the hope is that the Trail will become a regular part of local school curriculum. The Lacombe Research Centre's interpretive sign explains its history as one of the oldest federal research stations in Canada.
"Building a new Trail is a labour of love for your community, and that's a good thing, given all the challenges it presents," Graves said. "It took a great deal of resourcefulness and determination to get this section of Trail built and on behalf of the Trans Canada Trail, I commend the hard work and commitment shown by Lacombe County, Alberta TrailNet and its determined executive director Linda Strong-Watson and the Central Alberta Regional Trail Society."
The Trans Canada Trail is proud to have contributed nearly $290,000 to this $1.13-million project. TCT has invested more than $2.5 million in Alberta Trail over the years. The Trail in the province is 58 per cent connected.
In fact, since 1992, more than 1,700 kilometres of the Trans Canada Trail have been developed in Alberta; there are still more than 1,200 kilometres to go in the province to reach full connection.
The TCT is on a bold mission to connect the Trail from coast to coast to coast by 2017. For more information or to support projects like the Lacombe County Trail, please visit thegreattrail.ca/donate.