10 May, 2013
Peterborough residents celebrate new section of Trans Canada Trail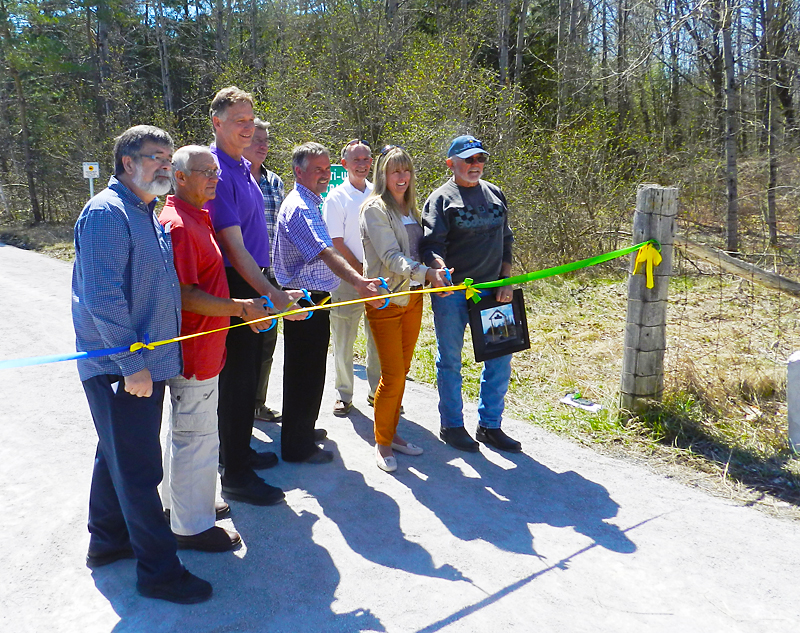 A 33-kilometre gap in the Lang-Hastings Trans Canada Trail was bridged on May 2 with the official grand opening celebrations and barbecue luncheon. The creation of this repurposed rail-trail brings our national project just a little bit closer to full connection by 2017.
After years of planning and thanks to the work of nearly 50 volunteers, the Lang-Hastings Trans Canada Trail connects 15 communities along 120 kilometres from the City of Kawartha Lakes through the city and County of Peterborough, to Northumberland County.
The region now boasts an extensive, connected recreational network where Trail users – residents and tourists alike – can walk, hike, bike, ride on horseback, cross-country ski and snowmobile through diverse terrain, including wild wetlands and agricultural lands. The location's landscape makes it both an important piece of recreational infrastructure and a significant tourist attraction. Locals are already preparing for more restaurants, places to stay and equipment stores in response to the expected demand.
"The Lang-Hastings Trail is a fantastic section of multi-use trail that will have a positive impact on Peterborough County," said Simone Hicken, TCT's VP Resource Development, during the event. "It will help improve the well-being of local residents and contribute to the economy, all while providing convenient and free green space where people can cycle, walk, ski, and snowshoe and snowmobile."
For more information on visiting the region, the Lang-Hastings Trail website, www.ourfavtctrail.ca, gives detailed information such as points of interest and the latest news from the region.
The Trans Canada Trail is proud to have contributed $295,000. TCT has invested more than $5 million in Ontario Trail over the years.
In fact, since 1992, 2,729 kilometres of the Trans Canada Trail have been connected in Ontario; there are still 2,506 kilometres to go in the province to reach full connection.
The TCT is on a bold mission to connect the Trail from coast to coast to coast by 2017.
-db