23 August, 2019
Roadways to greenways, not the other way round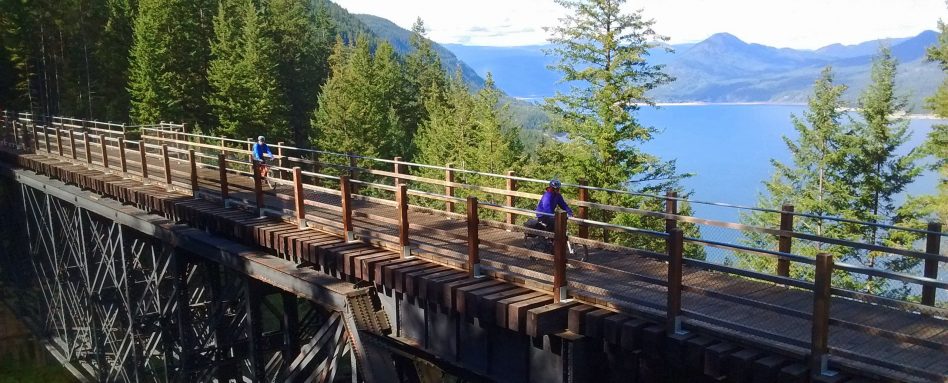 TCT's response to plans for the proposed designation change along the Columbia and Western Trail
We are deeply concerned and disappointed by a proposed designation change to a section of The Great Trail of Canada by British Columbia's Ministry of Forest, Lands, and Natural Resource Operations and Rural Development.  This change would mean that a 67-kilometre section of the Columbia and Western Rail Trail, a trail we transferred to the Government of British Columbia in 2004, would no longer be designated as "recreational trail".
Let us explain why we hope the Ministry will consider re-evaluating the proposed removal of the legal designation.
A setback for our past commitments
The section between Fife and Castlegar was donated to TCT by Canadian Pacific Railway many years ago. TCT then transferred this Trail section to the Government of British Columbia in 2004, with the expressed intention that it would be used and managed as a recreational trail.
TCT also provided funding for the development of this Trail section as part of the 'Spirit of 2010 Trail' project enhancement of this section for non-motorized use. To be faced with the possibility of this section losing its recreational trail designation is very disappointing for TCT and others who invested time and money in this section with the hope that it would be optimized for non-motorized users.
Safety of all users
We are aware of the current condition of the Trail section and the increasing number of motorized vehicles, including industrial use, along the rail corridor. Although the proposed designation would still allow non-motorized users to use this trail, the safety of these users is a significant concern for many.
Speaking to Rossland News, Jérémie Gabourg, Vice President, Communications and Marketing said: "[This] plan, if it comes into effect, will allow cars, SUVs and logging trucks to use this trail."
"And I put myself in the shoes of people using this trail, hiking or trying to bike. It will be a very difficult co-habitation for them, where vehicles can pop up at any time."
"Let alone the impact that it has on the quality of the trail as well, that kind of usage tends to make trails a lot dustier and harder to use when you are on a bike," he added.
While sections of The Great Trail of Canada currently utilize roadway as connector routes, these sections are interim connectors. They were selected after assessing and evaluating the safety implications of all possible alternatives – a lengthy and necessary process. TCT is continuously working to relocate these sections to greenway trails.
A dangerous precedent
In addition, the designation change would set a dangerous precedent for other sections of The Great Trail of Canada. If the solution to increased motorized use along the Fife to Castlegar section is to remove its trail designation, this becomes a worry for other parts our network in the province, and across Canada.
We respect the decisions of individual operators of the Trail regarding authorized uses of individual Trail sections, but this is not simply a question of permitting motorized vehicles. It is so much more. This is a complete loss of trail designation.
Protecting our heritage
Rail trails are a huge part of British Columbia's heritage. They are a legacy from the past that should be preserved for future generations to discover and enjoy.
The section between Fife and Castlegar features interpretive signage with historic photos and information along with remarkable rail infrastructure and tunnels.
If this designation change goes ahead, it could also harm the international reputation of The Great Trail of Canada, as well as TCT's ability to raise funds to maintain and enhance this national network.
Our proposed solutions
We ask that the Minister reconsider this precedent-setting proposal and instead invest in the development of the C&W as a greenway trail, as was originally intended and promised to the citizens of British Columbia.
If the solution to increased motorized use along the Fife to Castlegar section is to remove its trail designation, this becomes a potentially negative alternative for other treasured rail trail sections with motorized or industrial pressures.
We salute Trails BC's advocacy and share their concerns regarding the safety and experience of users, as motorized use would increase with a road designation.
TCT is always open and encouraged by any dialogue we can have on how to improve the quality of this rail trail system. However, removal of the recreational trail designation should not be considered a viable option.