5 May, 2016
TCT Connected in Haldimand County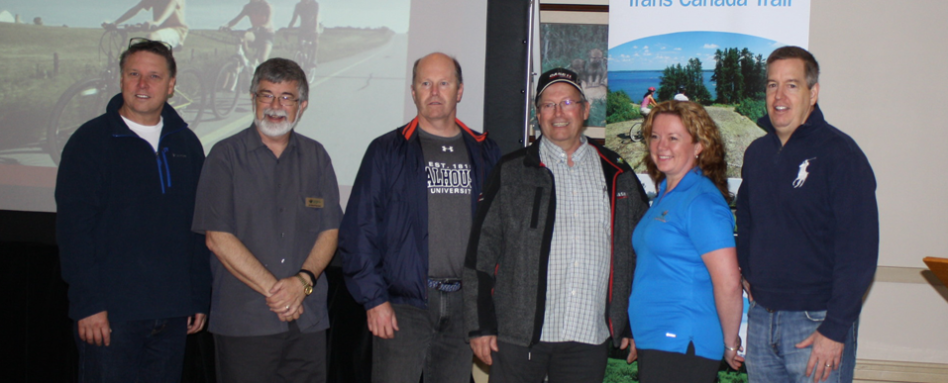 An event held today in Selkirk celebrated Haldimand County's launch of its new Haldimand By-Bike Video and Cycling & Hiking Map, as well as officially opening the Waterfront Way Parkette, Trail and Bridge. In conjunction, Haldimand also celebrated the completion of the County's York Trail on-road connections, finalizing the Trans Canada Trail in Haldimand.
Celebrating the completion of Haldimand County's portion of the Trans Canada Trail. Cutting the ribbon.
"It is a great day when we get to celebrate the start of our tourism season and showcase the beautiful trails, parks and amenities that we have in Haldimand County" said Mayor Ken Hewitt.
Trans Canada Trail's Ontario Chairman, Al MacPherson, attended and praised Haldimand County for its achievements.
After presentations and the premiere of the video at the Selkirk Centennial Community Centre, many of the attendees rode their bicycles to see Waterfront Way Parkette, Trail and Bridge first hand.
The event culminated with Ward 1 Councillor Leroy Bartlett officially opening the bridge with a ribbon cutting ceremony. The addition of the bridge over Stoney Creek was a recommendation from the Lakescape Action Plan which was approved by Haldimand Council in December 2011. This project was funded by Haldimand County's Vibrancy Fund.
"Waterfront Way is a scenic cycling and hiking area. These improvements and amenities make a big difference to the local community as well as to tourists" said Councillor Leroy Bartlett. "The addition of the bridge means pedestrians and cyclists can continue along the waterfront uninterrupted."