28 May, 2013
TCT volunteers celebrated for outstanding work in Manitoba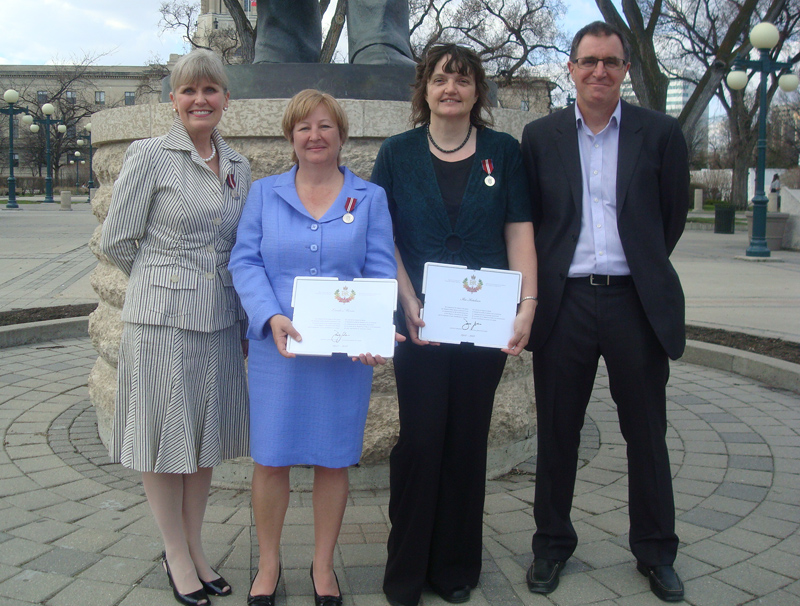 Longtime Trans Canada Trail volunteers Linda Morin and Ilse Ketelsen were presented with Diamond Jubilee Medals during a small ceremony that was held overlooking the Trail at the Manitoba Legislative Building in Winnipeg on May 7.
Along with many other volunteers, Morin and Ketelsen have been instrumental in planning, building, signing and maintaining the TCT in Manitoba. Morin is a former board member of Trails Manitoba and Ketelsen is a current member and a volunteer for the Rossburn Subdivision Trail Association.
TCT President & CEO Deborah Apps personally presented the medals to the two outstanding volunteers. At a reception at Government House after the presentation, the recipients, their families and generous donors were congratulated by Manitoba Premier Greg Selinger and the Honourable Philip S. Lee, Lieutenant Governor of Manitoba, and the Honourable Anita Lee.
The reception also recognized the efforts of the multitude of volunteers who have contributed to the Border to Beaches project that connects the Ontario border to Lake Winnipeg.
"In addition to having stamina, Trail volunteers have to be crack organizers and astute negotiators," Apps said during the ceremony. "They have to be creative, flexible, patient and bold. How else can you achieve a goal as daring as connecting our country from coast to coast to coast?"
Trails Manitoba, formerly the Manitoba Recreational Trails Association, is the official body overseeing the coordination of the building of the Trans Canada Trail in the province. The group's new website, trailsmanitoba.ca, launches next week.
The Trail is 92 per cent connected in Manitoba. The Border to Beaches section will be almost 360 kilometres once fully connected; it currently stretches 240 kilometres.