15 October, 2013
TCT's Ontario network expands in time for the 2015 Pan Am/Parapan Am Games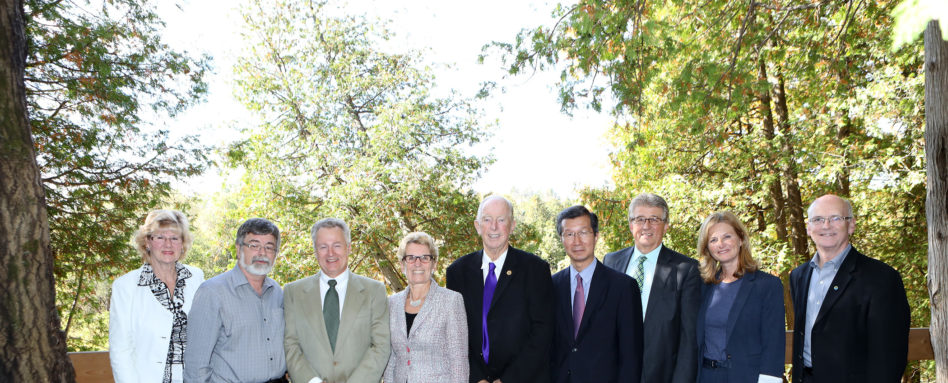 On Thursday, Oct. 3, the Trans Canada Trail was thrilled to attend Ontario Premier Kathleen Wynne's announcement of a Trail-building initiative that will connect the trails system in southern Ontario in time for Toronto's 2015 Pan Am and Parapan Am Games.
Paul LaBarge, chair of the Trans Canada Trail, joined fellow speakers the Hon. Michael Chan, minister of tourism, culture and sport, and MPP Joe Dickson (Ajax-Pickering) in celebrating the benefits of the new trail project.
By the 2015 Games, Wynne announced, 250 kilometres of new Trail will bridge gaps in the Trans Canada Trail in southern Ontario, connecting communities from Ottawa to Windsor and Fort Erie to Huntsville.
"I want to ensure that all of the people of this province benefit from our investments in the Pan Am and Parapan Am Games, because that is how we can grow as One Ontario," Wynne said. "Extending our trails system and connecting more communities is a great way for the excitement of the Games to live on well beyond 2015."
The province is investing more than $3.5 million in Pan Am and Parapan Am trails, which will frequently overlap with projected TCT segments. The province will create a continuous, 2000-kilometre trail, which will connect four major Games venues and, simultaneously, raise the proportion of connected TCT in Ontario by 4.9 percent.
This trail development is part of Ontario's Promotion, Celebration and Legacy Strategy for the Games.
"The Trans Canada Trail and its provincial partner Trans Canada Trail Ontario are delighted to work with the provincial government to connect Ontario communities," said Valerie Pringle, co-chair of the TCT Foundation. "These new trails will bridge gaps in our national Trail, bringing us closer to our goal of linking Canadians from coast to coast to coast by 2017. This section of the Trans Canada Trail will extend the benefits of the Pan Am/Parapan Am Games to millions of Ontarians."
Since 1992, TCT has invested more than $8.8 million in Ontario and almost 2,900 kilometres of Trail have been developed. The Trail is 55.4 percent connected in the province; just over 2300 kilometres of Trail must be built to achieve full connection.
TCT is on a bold mission to connect the Trail from coast to coast to coast by 2017. For more information or to support projects like this one, please visit thegreattrail.ca/donate.