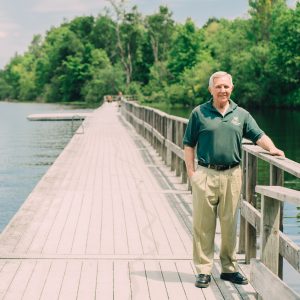 Jack Cockwell, in honor of Daphne Cockwell
There's a path along the coast of South Africa that's linked to the soon-to-be-connected 24,000-kilometre national dream that is The Great Trail.
The African path, a 10-kilometre hike bordering the town of Hermanus, was built in part by a retired nurse named Daphne Cockwell. Now, her son, South African-born executive Jack Cockwell, is honouring her legacy, along with that of his mentor in business, Peter Bronfman, by making a significant donation to help connect a Canadian recreational trail that links the country from sea to sea to sea. Cockwell is making the single-largest gift to date in Trans Canada Trail's history, committing an additional $3-million to the Trail.
"What better symbol could there be for Canada's sesquicentennial than connecting a trail linking the country together?" says Cockwell. "This is a trail for everyone to use, and that was my mother's goal; she took great joy in building a trail, then watching people walk along that path, near her home in South Africa." TCT is thrilled that Jack Cockwell has also accepted to take on the role of Honorary Chair of the TCT's Chapter 150 Campaign Cabinet. "Sometimes it seems that we spend our lives working and don't necessarily see the fruits of our labour clearly in front of us. The thing I love about working on a trail is that you see tangible evidence of your hard work. That's very satisfying," says Cockwell. Equally satisfying is the prospect of honouring his mother's memory and helping Canadians from every region connect The Great Trail, a lasting legacy for future generations.