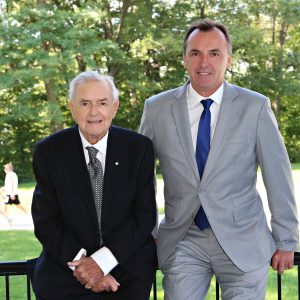 The Joyce Family Foundation – Ron Joyce
Founded by renowned Canadian entrepreneur Ronald V. Joyce, The Joyce Foundation works to support the social, economic and emotional well-being of children and youth, particularly those with significant financial need or facing other socio-economic barriers to success.
The Board of Trustees – including Ron Joyce, Grant Joyce, Steven Joyce, Hon. Ed Lumley, Rob MacIsaac, Aileen O'Rafferty and Michele Thornley – all share the enthusiasm and vision for a Great Trail linking Canadians from coast to coast to coast.
Through its philanthropic work, The Joyce Foundation seeks to open doors for youth. In the case of the Trans Canada Trail, all doors are wide open.