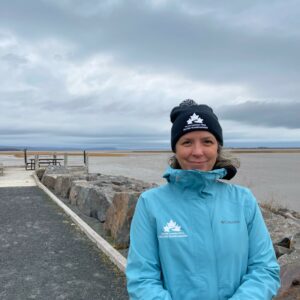 Angela Morin
Manager, Infrastructure and Signage
Angela brings over 22 years of experience in the trail sector to her role as Manager, Infrastructure and Signage for Trans Canada Trail. As a primary contact for local Trail groups, stakeholders and partners, her goal is to nurture positive, long-term relationships while overseeing the implementation of trail and signage projects, promoting Trans Canada Trail's programs and liaising with her colleagues.
Angela earned her degree in landscape architecture from the University of British Columbia, and is a member of the Canadian Society of Landscape Architects and the Atlantic Provinces Association of Landscape Architects, and is a designated RHFAC professional. Committed to community, she volunteers with the Atlantic Provinces Association of Landscape Architects, the Town of Wolfville Design Review Committee, the Nova Scotia Trails Strategy Coordinating Group and the Wolfville Skating Club. Her professional and volunteer experiences help to inform her trail planning and project work.
Originally from Calgary, Angela has also lived on both coasts of Canada. Her current home is near the Harvest Moon Trail section of the Trans Canada Trail in Nova Scotia, but her favourite section of the Trail is the Elk Valley Trail in British Columbia.