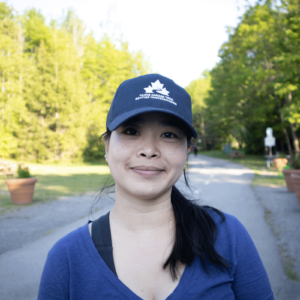 Bich-Anh Nguyen
Coordinator, Marketing Production
Bich-Anh brings a wide range of experience and education to her role as Coordinator, Marketing Production for Trans Canada Trail. She manages a variety of marketing projects, including sourcing and distribution of Trans Canada Trail promotional merchandise.
Colleagues describe Bich-Anh as zen and patient – skills she learned in part through her passion for yoga. She has completed 500 hours of yoga teacher training and values her practice as a part of a healthy lifestyle. She is also an enthusiastic globetrotter, having visited 25 countries so far. She speaks English, French and Vietnamese, and enjoys learning languages as part of her travels.
Bich-Anh holds a Biomedical Science degree with a minor in East-Asian Studies from the Université de Montréal, and a Marketing and International Business degree from HEC Montréal. She lives in Montreal and enjoys walking, cycling and being near the water on the Lieu historique national du Canal-de-Lachine section of the Trans Canada Trail.