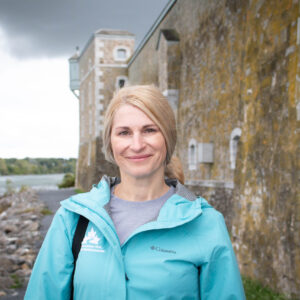 Kristen Gabora
Director, Trail Development & Volunteers
Kristen brings more than 20 years of experience to her role as Director, Trail Development and Volunteers at Trans Canada Trail. Collaborating with Trail partners and other stakeholders, she maintains the Trail's existing connections and works to improve and grow the Trans Canada Trail network. She is continually inspired by the passion and commitment of the volunteers she works with across the country. Through maintenance projects and national strategic initiatives, she partners with volunteer-powered local Trail groups to help them develop their sections of the Trans Canada Trail for everyone to enjoy.
When natural disasters alter the Trail – sometimes permanently – Kristen and her team work to ensure that the affected section(s) are repaired and in some cases, realigned. She strives to maintain accurate, current information about the state of the Trail for all users. Committed to her community, she volunteers on the Town of Canora Tourism Committee. She holds a degree in Physical Activity Studies from the University of Regina.
Kristen lives with her family on a farm in Saskatchewan, close to the Town of Canora (Saskatchewan) section of the Trans Canada Trail. She has travelled on many spectacular sections of the Trail across Canada – her favourite is the High Rockies Trail in Alberta's backcountry. Hiking here means experiencing mountains, forests, lakes, birds, wildlife and stunning vistas, all in the same day.