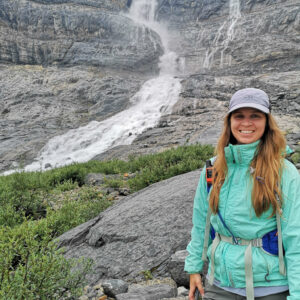 Raquel Healey
Coordinator, Education
& Inclusion Initiatives
In her role as Coordinator, Education & Inclusion Initiatives for Trans Canada Trail, Raquel develops, coordinates and implements training and capacity-building initiatives for communities that face barriers accessing trails and the trail sector.
Raquel is passionate about both movement and the outdoors, and their capacity to provide a fresh perspective and rejuvenate our minds and bodies. In addition to her degree in exercise science and kinesiology from the University of Winnipeg, she is an Outdoor Council of Canada Field Leader Instructor and Paddle Canada Advanced Flatwater SUP Instructor. She lives close to the City of Winnipeg section of the Trans Canada Trail, but her favourite Trail section is the Group of Seven Lake Superior Trail, which spans the spectacularly rugged north shore of Lake Superior.
Raquel's idea of the perfect day is spending all day hiking in the backcountry. When she can't do that, she listens faithfully to the Dirtbag Diaries, her favourite outdoor adventure podcast.