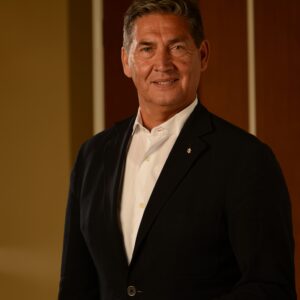 George Lafond
Director, Trans Canada Trail Board
British Columbia
George E. Lafond is a strategic advisor. He works primarily with businesses, educational institutions, and social and cultural organizations. Prior to this, his recent experience includes serving as the Treaty Commissioner of Saskatchewan. He was appointed to this role in 2012 by the Government of Canada. His responsibilities as Treaty Commissioner involved public education, neutral convening and dialogue with Treaty parties, and durable resolution of conflict relating to Treaty rights and responsibilities. He was reappointed in 2014, serving for two terms total, completed in 2016. Mr. Lafond has done lifelong work to promote and support local and community-led economic development efforts.
In his current business advisory capacity, Mr. Lafond's work spans a range of sectors, and includes both early-stage ventures and established corporations. He is a member of the board of directors of the following: Protein Industries Canada, a global innovation cluster created to increase the opportunities to collaborate and co-invest in projects that have the potential to transform the agriculture and food processing industries in Canada; PLATO, a software testing and technology service company dedicated to breaking down barriers for Indigenous people through meaningful training and employment in Canada's technology workforce; and Hudbay Minerals Inc., a diversified mining company with long-life assets in North and South America.
In the education sector, Mr. Lafond's work includes being an advisor to the President of the Saskatchewan Indian Institute of Technology. There, he helped create the first Indigenous Innovation Accelerator of its kind in Saskatchewan. A Plains Cree word meaning "a lodge supporting those who dream," Pawâcikêwikamik is dedicated to empowering grassroots Indigenous entrepreneurship and innovation in Saskatchewan. He also advises Headwater Learning Solutions' Indigenous Education Initiative: Vision 2032. This initiative is aligned directly with the Truth and Reconciliation Commission's Calls to Action and is informed by a research-led, evidence-based approach. As part of these efforts, the initiative has partnered with Indigenous communities to demonstrate how transformed education systems can fundamentally alter the trajectory of Indigenous youth on reserve.
Additional advisory roles that Mr. Lafond currently holds include the following: special advisor to Saskatchewan's Deep Earth Energy Production Corp., anticipated to be the first Canadian, 100 percent naturally sourced geothermal power facility; Defence Advisory Board member; Trans Canada Trail board member; National NewsMedia Council public member; and The Institute for the Study of the Crown in Canada advisory board member.
Mr. Lafond is a citizen of the Saskatchewan Muskeg Lake Cree Nation in Treaty Six Territory. He has long worked with his community to support reconciliation, wellness, economic development, and innovation. Mr. Lafond and his family are the founders of the Alphonsine Lafond Fund for Innovation, a philanthropic initiative dedicated to supporting the health, success, and well-being of young Indigenous women.
Upon Mr. Lafond's retirement as Saskatchewan's Treaty Commissioner in 2016, award-winning composer Paul Suchan was commissioned to write a piece in honour of his accomplishments. The classical composition premiered during a ceremony at the Gordon Oakes Red Bear Student Centre at the University of Saskatchewan. Mr. Lafond also received the Saskatchewan Order of Merit in 2016, and in 2022 received Queen Elizabeth II's Platinum Jubilee Medal.
George joined the Trans Canada Trail Board in 2020.