6 March, 2023
Bonnie's Trans Canada Trail: Something for Everyone on the TCT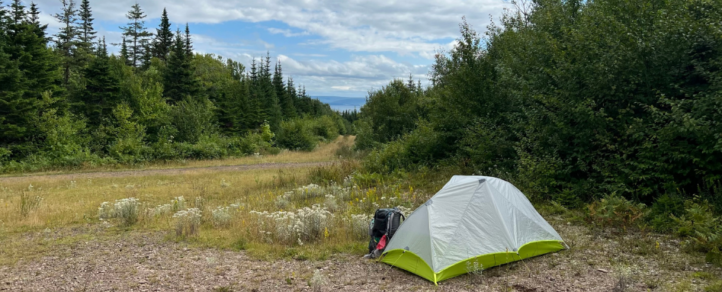 Written by Bonnie Thornbury
As the longest network of recreational trails in the world, it's no surprise that the Trans Canada Trail has something for everyone. Having hiked Trail sections in eight provinces, I can confidently say that there's hardly a dull moment on the Trans Canada Trail.
There's wonder to be found
Nature is the obvious draw: the Trail abounds with trees, plants, wildflowers, fungi, bugs, birds, mammals, fish and thousands of informational plaques coast to coast to coast to attune trail users to the local wildlife and their habitats. There's always wonder to be found in the little things on the Trail: an up-close look at a bug, finding a perfect amanita muscaria mushroom, or the chance to hug a giant Douglas Fir tree. On extra-special days, you might experience one of my wildlife highlights: a glimpse of a grazing grizzly in the Rockies, a fleeting badger or a distant pronghorn herd in the Prairies, or falling asleep to the sound of whales breaching in the St. Lawrence River in Saint-Siméon, QC.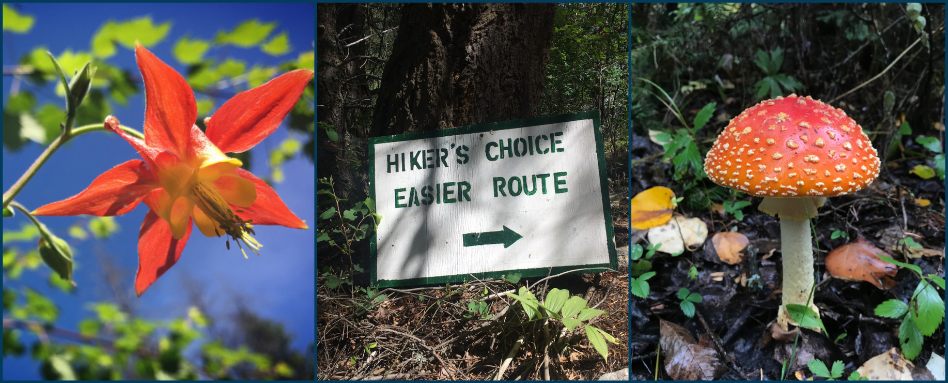 But nature aside, there's so much more to the Trans Canada Trail: community, art, industry, agriculture, history, and trails for every type of user.
Building community on the Trail
Among the biggest benefits of the Trail is that it's a great vehicle for building community – just by getting outside and saying hello to the people whose paths you cross! If you're new to a community and want to make connections, consider getting involved in your local trail club or association, or start something new if one doesn't exist yet.
The Trail can also be a way of exploring beyond our own communities. Travelling within Canada? Have a quick look at the Trans Canada Trail map!  Chances are good that your destination crosses paths with the Trail.
A leisurely stroll on the Trail in Canada's major cities will take you through or past iconic landmarks such as Calgary's bright red Peace Bridge over the Bow River, through The Forks cultural hub in Winnipeg, around Vancouver's Stanley Park, along Toronto's Lake Ontario waterfront, or through St. John's historic Signal Hill. The Trail passes through hundreds of smaller cities and towns too, guiding trail users through great parts of town. Using the Trail as a throughline while travelling is a great way to get an intimate sense of the local vibrancy.
If you have the means to venture a little further afield while on vacation, or you're tackling the trails near your home on weekends, the city-adjacent Trans Canada Trail sections are often spectacular. The Sentier des Caps de Charlevoix outside of Quebec City, The Pan Am Path through Toronto's Don Valley, or the Salt Marsh Trail near Halifax are a few that come to mind. Whether you're stopping to read the informative plaques or just taking in the nature, community, and art on the Trail, it's a great way to get acquainted with Canada and add some easy movement to your weekends or vacations.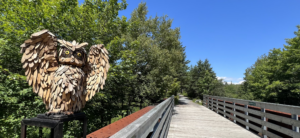 Art to brighten your day
The Trail is also a home for art and artistic expression. Local and provincial governments have funded a good number of trail-side art installations – sculptures, interactive art, and murals – but even more charming is the art made by trail users. Examples include: repurposed railway ties and spikes used to make whimsical faces along the Columbia and Western Trail in BC, homemade signs pointing out interesting natural features on the trail, "fairy crossings" and "fairy doors" cleverly placed by crafty kids, or the many iterations of "rock art" projecting kind words to brighten people's days.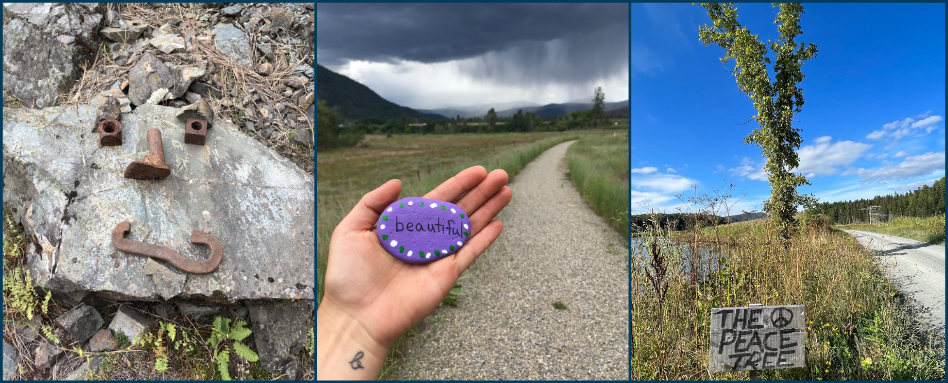 Awe-inspiring and thought-provoking sights
When travelling more remote sections of the Trail, I often think about a line from the 1967 centennial film Helicopter Canada, which promises to "have a good look at Canada, warts and all." Whether industry is a wart is a matter of perspective, but the Trans Canada Trail will give trail users a good look at that, too. Active coal mines can be seen from the Elk Valley Trail, potash mines in the Prairies, and defunct coal mines along the Celtic Coastal Trail. The world's largest tandem axel truck, which can be seen along the trail in Sparwood, BC, stands out as a marker of the scale of Canadian industry.
Given that most people in Canada live in urban centres, the access that the Trail provides to these remote and often unseen parts of the country – and the people who live, work, and play in these areas – is both awe-inspiring and thought-provoking. Beyond mining, travelling the Trans Canada Trail will expose you to solar and wind farms, hydroelectric dams, the lumbering sounds and fresh pine smells of logging operations, and long stretches of power lines overhead as the Trail weaves below.
Agriculture is another consistent theme along the Trans Canada Trail, with requisite regional variations. In Newfoundland, a province affectionately known as "The Rock," I was amused and intrigued to walk alongside freshly plowed fields that were more stone than soil. Agriculture is at its most dramatic in the Prairies, where the trail overlooks fields of wheat that sway in the wind, bringing wave-like life to what was once the ancient Bearpaw Sea.
The Trail also provides plenty of brain stimulation for the history buff by way of informational plaques, even in the most unexpected and remote of places. And, the Trail itself is a reminder of Canada's history and times past: so many of the most beautifully maintained trail sections were once railways or corduroy roads that serviced bygone eras of Canadian industry.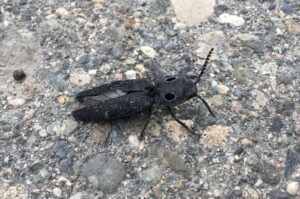 Something for everyone
Last but certainly not least, the Trail has something for everyone in terms of terrain and means of transportation. In my two seasons of through-hiking the Trans Canada Trail, I've met people from all walks of life and all ages experiencing the Trail, from newborns taking in the Trail from the vantage of a baby wrap to nonagenarians (90 years+!) shuffling along for exercise.
• With four out of five Canadians living within 30 minutes of an entry point, the Trans Canada Trail is a great place for a leisurely walk or a short stroll, cycle, wheel, or run.
• Trans Canada Trail has been working with AccessNow to map the accessibility of Trail sections for assistive technology and wheelchair users.
• If rugged backpacking is your thing, the Trail Trans Canada Trail provides! New Brunswick's Fundy Footpath or Northern Ontario's Pukaskwa Coastal Trail are two of many multi-day rugged wilderness backpacking sections.
• For gentler multi-day hikes, pitch a tent (where permitted) along one of the paved or firm gravel stretches of trail – any of the converted railbed trails are sure to provide gentle inclines and firm surfaces.
• Converted railbed trails – like PEI's Confederation Trail or the Kettle  Valley Rail Trail in BC – are also a delight for road- and mountain-bikers alike.
• Many trails are equine-friendly.
• For the H2O-inclined, the Trans Canada Trail offers a number of unique paddling opportunities. Although I haven't paddled the route – yet! – I had the opportunity to circumnavigate Bras d'Or Lake last fall and was impressed at the number of access points and signage for the water route, one of many water sections on the Trans Canada Trail.
Whatever your interests, however you like to travel, it's almost certain that the 28,000-kilometre Trans Canada Trail has something to offer!
Want  to learn more? Keep an eye on this page in the coming months as I share section highlights, safety tips, trail magic, and what it was like tackling the Trail on bicycle after breaking my foot! You can also follow my Instagram stories (@bonnbury) and my blog (www.bonnvoyages.ca) for photo journals from the Trail. See you outside!