14 March, 2019
Born to run: Karen Edwards on health and creativity on the Trail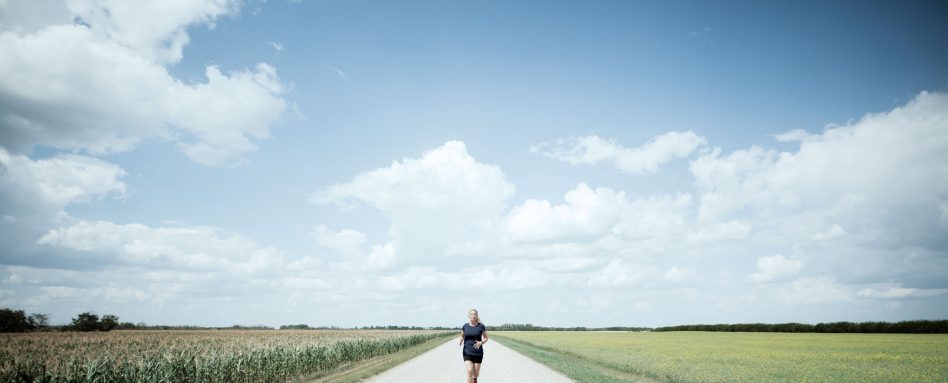 By Jane O'Faherty
For many of us, our morning routine is, well, routine. It's usually a five-minute shower, a few sips of coffee and a dash into rush-hour traffic. For Karen Edwards, however, no morning is complete without a brisk run on the Meewasin Trail in Saskatoon.
"I run on The Great Trail every single day," says Karen. "The Trail is about a kilometre from my home, and I could go miles and miles and miles in any direction."
Karen didn't always have an interest in running, but as she got older, she began feeling more concerned about her health.
"At the time, I didn't feel bad, but I didn't feel good either," she recalls.
Now, Karen laces up and runs on The Great Trail in all seasons – in the rain, the sun and the snow. Her enthusiasm for this daily ritual is infectious – in fact, she's frequently joined by her husband, her daughter and even her dog!
However, solitary excursions are also important to Karen – especially when it comes to fuelling her creativity.
"As a writer, I think about things and get ideas while running," she says. "I wrote one novel, and you can find almost every scene in the book on The Great Trail. I ran past a ravine, and that location is featured at the start of my book."
"Even in my work as an art director, running helped. If I'd have a problem that was nagging at me, I'd go for a run and I'd find solutions," she adds.
During one such run, she felt inspired to write another book. This time, it would be a guide for running newbies.
"I thought maybe there was something I got through that someone else was struggling with," she says. "I thought 'I should write this down'."
Inspired by this thought, Karen wrote Runner by Nature – a self-described "old broad's guide to running" that aims to support people who come across stumbling blocks and challenges as they run.
According to its description, the book "won't make your run faster or easier, but it might remind you why you do it."
Karen says she hopes to launch Runner by Nature with the help of a Kickstarter campaign, which would also fund the launch of a line of running apparel and accessories.
Karen says that getting out on the Trail has not only improved her health and her mood, but has also given her a great appreciation of The Great Trail in her area.
"There is so much on the Trail – the sunrise, the trees, the river," Karen says. "A few minutes from my house, I can be in the wilderness."