17 July, 2023
Trail Profile: City of Calgary – RiverWalk Section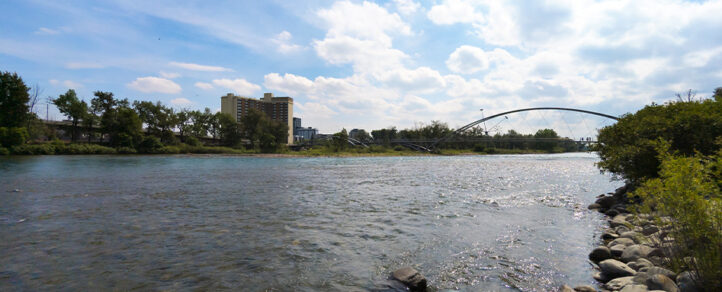 The City of Calgary Trail runs through downtown Calgary, branching off in several directions to cover the city. In this profile, we'll focus on the RiverWalk section: a beautiful waterfront section in the heart of downtown. 
What we love about this Trail section 
• It takes you along the waterfront of the Bow River, with beautiful cityscapes and water views 
• It's steps away from great food, drinks and attractions, just off the Trail 
• It includes separate walking and cycling sections in busier parts and makes an ideal commuter route (hooray for active transport!) 
The heart of downtown Calgary and beyond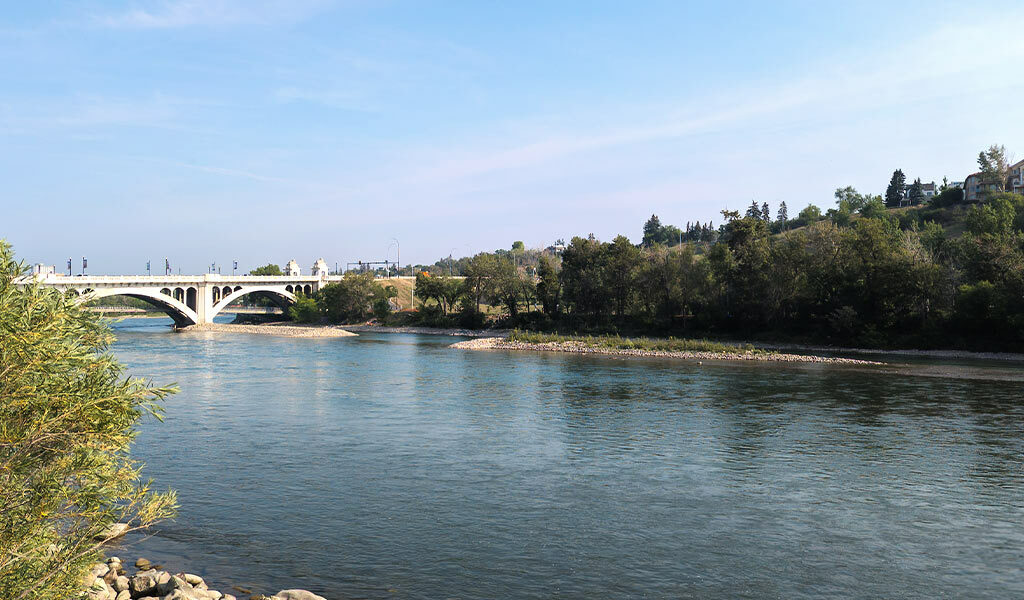 Running between the Centre Street and the 9th Avenue SE bridges, the RiverWalk section of the City of Calgary Trail spans approximately two kilometres. This kid-friendly section is paved and flat, so it's perfect for strolling, leisurely cycling and people-watching. If you're more of a long-distance hiker or cyclist, fear not – the City of Calgary Trail includes over 100 kilometres in its network, so there is plenty to explore!  
Island adventures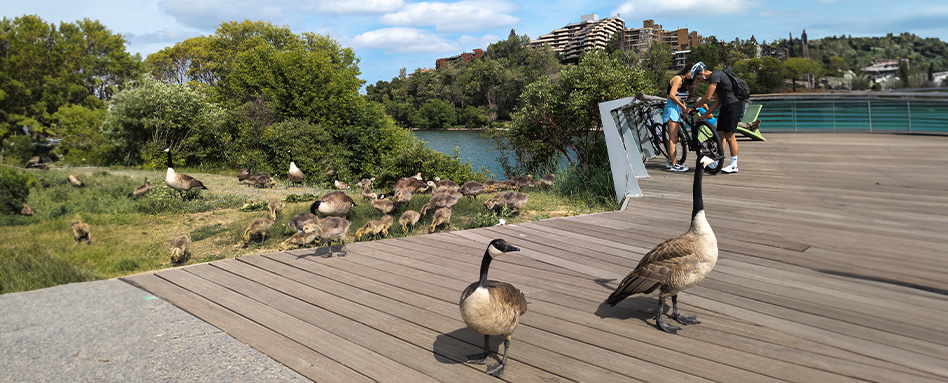 St. Patrick's Island is a 35-acre park in downtown Calgary that features a walking and cycling network, wetland, playground, beach and more, just midway through the river adjacent to the Trail. Locals and visitors of all ages enjoy calm green space, right in the city centre. Access the park on foot, just a short walk from the Trail.  
Prince's Island is also a great hotspot in the summer for outdoor festivals and has a public skating rink in the winter months. 
Meander along the Bow River and pop on and off for snacks, drinks and more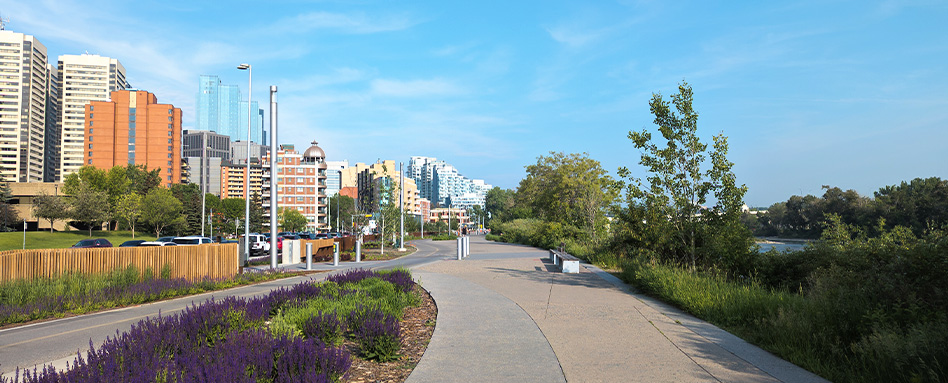 Start out at the Centre Street Bridge in Chinatown, and head east along the water, taking in the lovely views. Your route passes Fort Calgary and the confluence of the Bow and Elbow rivers, a place of gathering and ceremony for the Blackfoot Confederacy for thousands of years.  
The RiverWalk is steps from Chinatown, downtown and endless food and drink, so you can easily pop on and off the Trail for snacks, drinks and culture. Pop over to Phil and Sebastian Coffee Roasters for a delicious drink or stop to visit the awe-inspiring Central Library.  
From the RiverWalk, follow the City of Calgary Trail through the city or, depending on the direction you're heading, continue to connect to Fish Creek Provincial Park, Glenbow Ranch Provincial Park, and the Calgary to Airdrie Connector sections of the Trail.