2 October, 2019
It takes a community to care for the Trail in Kawartha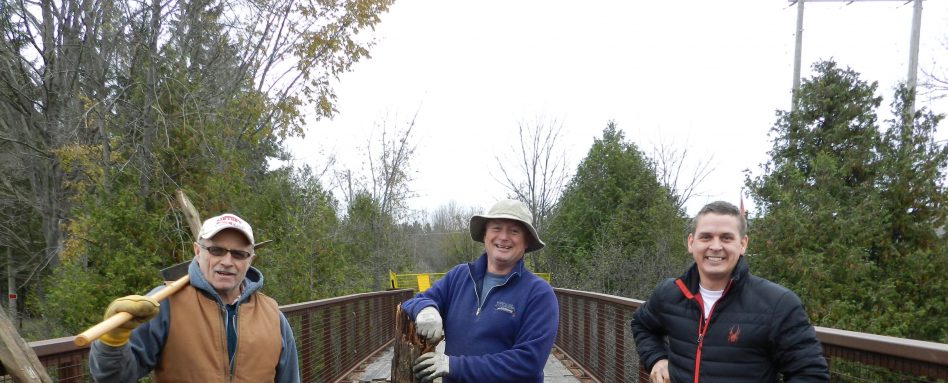 Text and photos by Kimberley Fehr
Each spring and fall, Omemee resident Ben Van den Broek volunteers for an epic grass-cutting odyssey on the Kawartha Trans Canada Trail – all the way from Lindsay to Peterborough and back again. For the last three years, it's been a team effort with Art Thompson, who lives in the nearby community of Reaboro, another town along the Trail.
"I always want to make sure there are two people out there and we both work together doing it," says Ben.  "Because my wife Joyce doesn't like me going out there by myself and it's a good idea for safety too." Ben gets behind a wheel of the tractor, while Art drives ahead in Ben's truck, opening the trail gates to keep the tractor moving, and then stopping to cut the scruff.
Two volunteers from two trail towns
"That's the biggest job we do," says Ben. "It's a real tiring day because you have to really be careful of what's around you, all day long. You're always watching for people biking towards you. You've got a blade cutting. Some people have their dogs loose so you want to make sure you shut that blade off so no one gets hurt."
Ben is semi-retired and runs Ben's Antiques with Joyce in Omemee, in a house that was once owned by one of Omemee's most renowned residents, Lady Flora Eaton (an Omemee girl who married into the Eaton dynasty and became a matriarch).
About four years ago, a Lion's Club member asked him if he'd take over the grass-cutting job. "I said, 'Yeah, I'll do that,' because I like the Trail and I've used it a lot. I'm kind of retired so I have time. I always worked out outside before, so I just kept doing it."
A former machinery sales person at a farming co-op, Ben says, "My favourite moment is when you're out there working and you see a mom and dad and a couple of little kids on their bikes or walking and they ask you about what you're doing, and then they thank you for what you're doing. It's a good feeling."
Callaghan Farm Supply donates the use of a tractor
Cutting the grass usually takes two days. This fall, however, Ben and Art finished in a day, thanks to Steve Callaghan of Callaghan Farm Supply in Lindsay, who did some of their section. Steve generously lends the Kawartha Trans Canada Trail organization a tractor for the endeavour. Another volunteer, Dan Plancke from Manila, takes care of the Trail segment west of Lindsay, so it's a four-day event in total.
Community groups serve as managing partners
Ben became involved with the Trail with the Lion's Club in Omemee, which is one of 12 managing partners – and over 100 volunteers – assigned to care for sections of the 53.8-kilometre Kawartha Trans Canada Trail.
Al MacPherson, a volunteer who oversees the process as the trail advisor, says, "We have an agreement about what the managing partners do. They'll do trail inspections in the spring and fall, pick up litter, do minor repairs. If we have a hazard tree, they'll help cut it down or we'll cut it down and they clean it up."
As a student, Al wrote his thesis on trails. As a professor at Trent University and Fleming College, he taught the course(s) on trails, how to build trails and how to use them. Now he's retired, and shares his expertise as a volunteer. He says the most crucial lesson in trail design is: "Water kills trails." Careful planning such as the slope of the tread, switchbacks and other techniques, make all the difference to the life of a trail.
Some of the other managing partners include Fleming College, the Heart of Ontario Snowmobile Club, a couple in the community of Little Britain, a bike company called Spokes for Folks, an organization called the Green Trails Alliance and more.
In Omemee, the Lion's Club hosts Trail clean-up events twice a year, posts signs, opens and closes gates, and organizes major events like the Canada 150 celebration that had around 3,000 people on the Trail.
Volunteers came out to strip the bridge
Last fall, when the bridge across the Pigeon River in Omemee was being restored, a group of Lion's Club volunteers spent nearly three weeks stripping the wood off before the contractors refinished it. This group included Art and Ben.
"It was a push to get it done before the contractor came," says Art. "When you get a bunch of people together, you egg each other on. One person says, 'I got time tomorrow, do you have time?' and next thing you have three or four people coming out and the job gets done."
Art and the other volunteers collected scrap nails and screws from the bridge, took it to a scrap metal dealer, and donated the proceeds to Camp Kirk, which serves children with learning disabilities and autism.
Art also helps out in Reaboro, where members of the community are the managing partner of the Trail, and goes with Ben ? the guy with the chainsaw ? to handle maintenance calls. "I've cycled the Trail from end-to-end on Prince Edward Island," says Art. "It's all one Trail. I help maintain one part of it and go ride another."
While Ben is taking a break from the Lion's Club, he's bound to the Trail, and is a member of the Kawartha Trans Canada Trail's Board of Directors.
Local businesses give to Five-Five-Five
When the Kawartha Trans Canada Trail  launched its Five-Five-Five sponsorship program, Ben reached out to a friend of his, Patrick Daley of Century 21 United Realty. Patrick joined the program, committing to giving $5,000 over five years, funds that go towards projects like restoring the famed Doube's Trestle Bridge east of Omemee.
Unofficial trail friends
Another Omemee resident who has volunteered and just joined the Lion's Club is Ray Lawson, who has trimmed branches, filled potholes and can be found cycling the Trail on Sunday mornings with a friend. When the Omemee bridge was being restored, he lent a tow wagon to carry away the wood to a dumpster on his yard.  Living on the Trail right beside the Omemee bridge, Ray takes a vested interest as sort of an unofficial "trail friend." Before there was an air and bike maintenance station installed right outside his house, he used to lend his pump to anyone who needed it and has been known to let people fish off his dock, fill their water bottles and to generally help out passersby.
"I love to hear everyone's stories," says Ray. "It's great how the government and individuals got together and made this happen.  I believe the Trail is an amazing opportunity for people. It's great for Canada and for everybody."
Trans Canada Trail is a not-for-profit organization. If you value our work, please consider supporting us by visiting our Give page.