28 September, 2017
Discovering Wild Foods on The Great Trail: Foraging Tips for Fall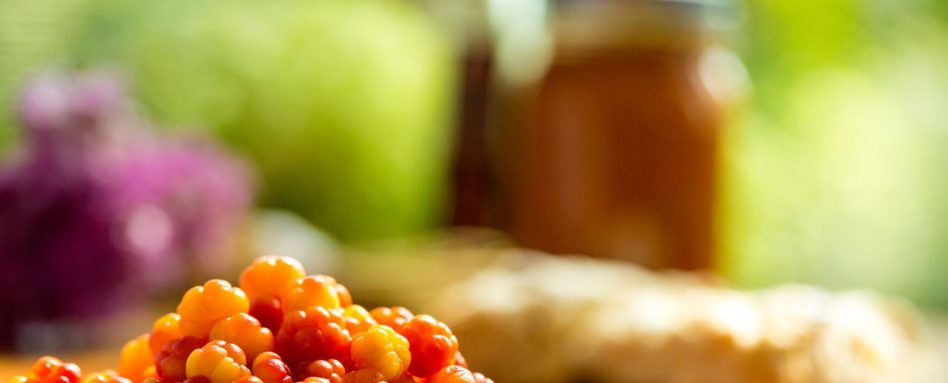 Foraging is an ancient art, but one that is alive and well on The Great Trail. While the knowledge of foraging is traditionally passed down from generation to generation, anyone with a taste for adventure can join in the fun!
Read on for expert tips for foraging on The Great Trail.

Time-Tested Foraging In Newfoundland
Third-generation Newfoundlander Lori McCarthy has always had a profound interest in wild foods. Growing up on the edges of the North Atlantic, she regularly foraged with her family from a young age.
"It was something we did all of our lives growing up," she recalls. She also points out that foraging is a huge part of Newfoundland culture, as ferries bringing in food or supplies could often be delayed by ice on the sea.
"Fall is a big time for harvesting," Lori says, adding that plenty of blueberries, partridge berries, and cranberries can be found at this time of year.
Minty-tasting mountain berries are particularly special finds when the leaves change.
"(The berries) grow on little vines that creep along the ground, about a centimetre above the forest floor," Lori says. "You could walk over the ground and miss them."
Lori has managed Cod Sounds, a wild food and foraging school based in St. John's, for the past five years. In that time, it has won numerous tourism awards, and Lori sees interest growing all the time.

Trail Sections to Visit: East Coast Trail, Newfoundland T'Railway
Foraged Foods in Nova Scotia Go Global
Belgium-born Fred Dardenne has been foraging since the age of seven, when he accompanied his father, grandfather, uncle and friends on their searches for wild food.
When Fred arrived in Nova Scotia 10 years ago, he was surprised to see that no chefs in the area served local wild food in their restaurants. It sparked the idea for his business, which now supplies curated foraged food to 90 restaurants in the Halifax area, as well as eateries as far away as Dubai.
In the fall, Nova Scotian foragers can expect to find wild berries, mushrooms and sea greens. But for Fred, it's a full-time job – he forages even in the depths of winter.
Fred's business delivers weekly wild food boxes to customers, and also hosts foraging tours for visiting enthusiasts.
"Once people learn about wild areas, they don't just say: 'Wow, what beautiful landscapes!'," he says.
"They also stop and ask: 'What fragrance is in the air? Where is it coming from? Why, that's the magnificent meadowsweet that Fred told us about,'" he adds.
"When people can take pleasure in understanding and staying connected to nature, I'm the happiest man in the world."

Trail Sections to Visit: Old Barns to Stewiacke, Jitney Trail, Salt Marsh Trail
Urban Toronto's Wild Side
Natalie Boustead, a Toronto-based foraging expert, discovered the benefits and uses of herbal plants while working on an organic farm in Guelph in 2010.
When she returned to Toronto, she was determined to find wild foods in the urban landscape of Ontario's capital. Now, she regularly explores urban trails to find delicious and healthy plants.
Natalie says foragers in southern Ontario have a wide range of plants to choose from in the fall.
"I like pine needles. You can add them to a mint tea, and the needles actually infuse it with vitamin C," she explains. "Rosehips are available from September to November or December. They are also high in vitamin C, one of the things we miss when the days get darker!"
Natalie believes that foraging wild food and respecting our natural resources are intrinsically linked, and stresses that avid foragers should only pick what they need.
"If you stumble upon a bush or tree laden with berries, don't be tempted to take every single one. Take about 10% of what you see," she says.

Trail Sections to Visit: Pan Am Path, Caledon Trailway, Kissing Bridge Trailway
Tips for Fruitful and Fun Foraging on The Great Trail
Foraging doesn't mean hoarding! Only take what you need – no more than 10% of what you see.
If you're planning your first wild food expedition on The Great Trail, go on a tour with a foraging expert. NEVER eat a plant you can't identify.
Find a foraging guide in your local bookstore or library for your journey on The Great Trail.
Always check with property owners if you're foraging on private land.
Discover your local section of the Trail network HERE.