1 August, 2019
From Pictou to Borden-Carleton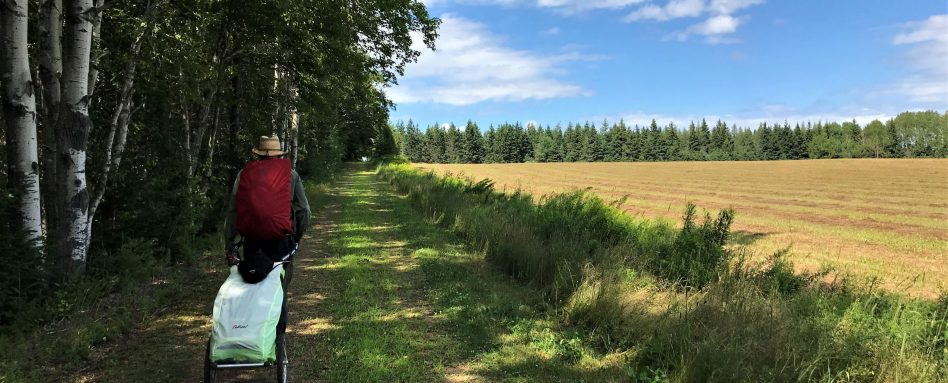 By Julie Chatelain and Simon Lacroix
We left Pictou refreshed and looking forward to what lay ahead on Prince Edward Island. Nova Scotia had been a very different experience from Newfoundland. We expected that PEI would offer its own flavor to our great walk.
The ferry left from Caribou some fifteen kilometers from Pictou. Walking along the Three Brooks Road gave us an opportunity to admire the Nova Scotia coastline. We met a good number of people walking and cycling along this beautiful stretch of road. We arrived at the ferry just in time to see the 9:30 ship leaving. No worries, we happily waited for the next vessel and people watched. Being near so many folks, we became mindful of our looks (and smells).
No amount of washing removed the tangy blend of sweat and citronella that our clothing had acquired! Nothing could be done, this was part of the experience of distance walking. We managed our limited amount of space and weight by carrying very few clothes. Therefore, we wore the same outfits day in and day out. Our 'JuSi'personas drew some odd looks but they also offered an in, when starting conversations with strangers. On the ferry, we sat next to a couple from Charlottetown. They gave us their coordinates in case we needed any help while on the island. They described the PEI islanders as a bit shy but friendly.
Once on PEI, a short walk up from Wood Islands led to the visitor's centre, and the start of the Confederation Trail. The ladies at the information center were knowledgeable about their trail and gave us a map detailing the rest/picnic areas (places to camp), outhouses (some of the nicest yet) and intersections where we might find houses for water. After our first few steps on the trail, we were in awe. The grooming of this track was amazing! Would it be like this all the way?! Yes, it would.
The Confederation Trail utilised an old rail-bed decommissioned in 1989. But unlike in Newfoundland, it was dedicated to pedestrians and cyclists. It was well maintained. No sign of its former life existed other than the flatness of the grade. There were numerous spots to rest along the way, furnished with benches and picnic tables. Every intersection had placards telling of times gone by. There were long sections of wooded areas (tunnel of trees), vistas of farmland, and small clusters of homes near road intersections.
What did we experience on this perfect trail? Thirst. Water access was minimal. We had to depend on residents for our water. Our friends know that we are self-reliant and have difficulty asking for, and accepting, help. This was our challenge; asking for help. Most of the time folks were great. But understanding the amount of water we needed seemed difficult. We would hand over our water dromedary (five-liter bag) and we would get it back, half full. We would thank them; fill-up one of our camelbacks and go to the next house and begin the process again. We got a lot of practice asking for help.
More and more, we started thinking of our brief return home. We felt tired and had to force ourselves back to the basics of walking, staying focused on the present moment. This lesson kept coming back. The more we projected into the future, the more challenging the trail gods made it for us. An example of this was walking into Charlottetown. We started that day knowing we had an easy twenty-six kilometers to get into town. Easy Peasy! But the last stretch on highway 1 seemed endless. The heat of the day and the fact that we ran out of water made those last few kilometers quite challenging.
But once in town, we met a charming couple who walked with us for a bit. They wanted information on our training and equipment in preparation for their own walking trip in Europe the following year. We offered some suggestions; gave them our business card and website as a place to start their research. We were energised once more.
We left Charlottetown and walked two more days. The terrain opened-up with more views of agricultural fields (mostly potatoes). We found a great camping site near Fredericton (PEI), our last night out. The last day, we turned off the main trail at Emerald Junction. We knew we had eighteen kilometers left for Borden-Carleton. We camped at Yogi Bears Campground and enjoyed our last meal at an 'all-you-can-eat' buffet of our camp-food. Falling asleep that night, with very full tummies, we dreamt of our next stage in New Brunswick.
We left PEI on the Maritime Bus Line. It was the only way out of this small community. We were back home a few days before the celebration for Simon's mother's, her 94th birthday. A few days later we flew to Vegas for our good friend's wedding celebration. We may have found a bit of time to rest here and there.
We planned on getting back on the trail in mid-September and starting in New Brunswick. How far we would get this season would be trail and weather dependent. See you then!

Find us walking
Website
Facebook