30 July, 2019
From Sydney to Port Hawkesbury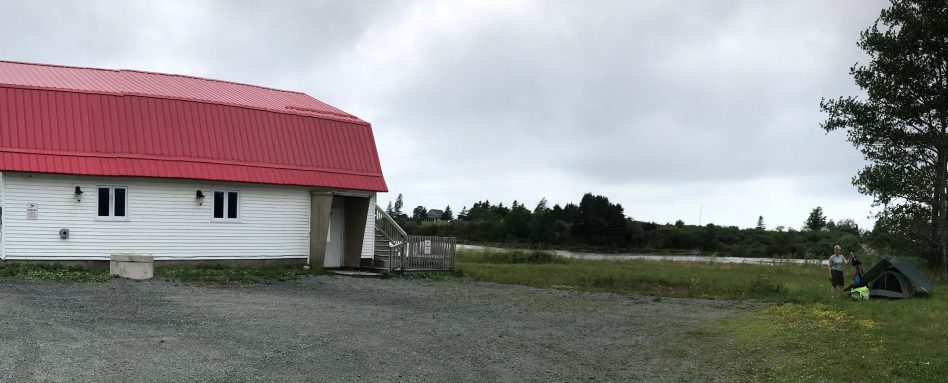 By Julie Chatelain and Simon Lacroix
Five walking days found us at the Hearthstone Inn where we rested for a day (or two). But let's step back to our departure from Sydney.
The Trans Canada Trail in Cape Breton was a waterway along the Bras d'Or Lakes. Julie had planned an itinerary along the northern aspect of the lake. But this followed the busier highways. The Trans Canada Trail then would follow wilderness trails in the Ainslie Lake area. Our second alternative, along the southern shores of Bras D'Or Lake, used secondary highways and would be much quieter.
Road walking had its own challenges. We were exposed to cars and trucks passing too close for comfort. The footing was smooth and could bring on repetitive strain injuries. The hot and humid temperatures at this time of year in Nova Scotia reflected on the asphalt surface in the afternoons making it exhausting to walk.
We minimised these difficulties as best we could. We started early in the morning (6am), took breaks in the shade when and wherever we found it (even in ditches along the road). Thanks to Julie, our focus on proper walking technique was ever-present. We topped up our water as often as we could. And if there was a convenience store along the way, we enjoyed an electrolyte drink and chips! Not healthy, you might say. True but it had calories and lots of salt, which we needed as we are sweating a lot.
Simon's shirt was soaked morning, noon and night. It did not dry overnight due to the high humidity. This might seem uncomfortable, but it kept the big guy cool and that was a good thing. Julie's shirt was the same, but it looked dry when wet, she always looked fresh :o)).
With all the challenges of roadway walking, we still managed to enjoy it. It had become meditative and inward focused. We found ourselves in a day-dream state where images, memories and new ventures flowed freely. We called this space our empty box.
Travelling on roadways meant that our encounters with local folks decreased. On our first day, we were having second breakfast along the Fleurs de Lis Parkway, just out of Sydney, when a car pulled a U-turn and stopped. The driver had seen us on the road and worried we didn't have enough water. He had bought us two bottles of cool water. Thanks Larry! At a convenience store in Potloteck, we met several people who had seen us walking earlier that day or the previous day. They wished us luck on our journey.
Our first night, we camped at Ben Eoin RV and Campground. It was not exactly our kind of place. The RV's stacked together along the beach blocked the view of the Bras D'Or Lake. The campers were enjoying their week-end getaway and were making quite a racket. But the water was refreshing and our neighbour Bill, a retired vet from Florida, placed his RV to provide shade for our tent. We spent an hour chatting about all the wonderful places to hike in the US.
Day two, the terrain became more challenging. The grade was steep with many long hills. We stopped at a lovely hilltop picnic area with a potable water tap. We could have stayed there longer, but the roads beckoned. At the end of the day, we reached the community of Red Island. We were spent.
Looking for a campsite could be a chore at the end of a long, hot day of walking. On Main Street, we spotted a fire hall with a flat lawn. Simon went to a nearby house as we thought it best to ask someone's permission prior to setting up camp. It turned out, Theresa was the fire marshal's mother. Not a problem! Did we want to come in for a shower? "No thank you, we showered a few days ago!" had been Simon's response.
The following day, with a lighter step, we looked forward to our next destination. It would be a short 25-kilometer day. St Peters was touristy and quaint. Its canal was the oldest working in Canada and was built in 1867. We booked into Bars D'Or Lakes Inn, where we enjoyed a wonderful meal of fresh seafood and pasta.
Julie started noticing that Simon was favoring his right foot. He was not one to complain. His shoes in Newfoundland had become very worn and he walked a further 100 km in them. We purchased new shoes in Sydney, but the blister that had developed, only got worse every day. We pushed on another two days to reach Port Hawkesbury where we took two rest days to heal Simon's poor foot.
It would be hard to do very little but that was what was needed. Foot soaks, sunshine and rest. A good use of down time was to resupply and do our laundry. At the laundromat we met Mary, a nutritionist with a ton of questions! Julie spent a lovely hour exchanging thoughts on our nutritional needs, distance walking, and healthy lifestyle choices in general.
Maybe some nachos and beer tonight!?

Find us walking
Website
Facebook