14 December, 2022
Growing up – and growing healthy habits – along the Trans Canada Trail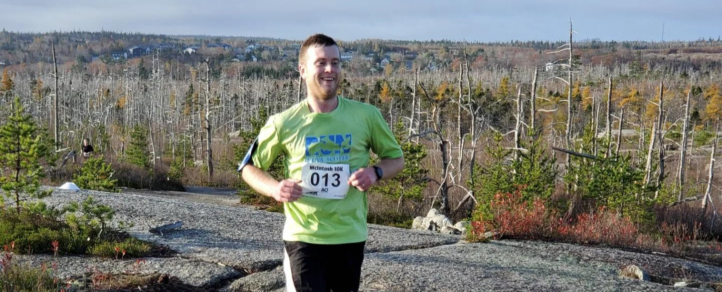 Meet Brenden Blotnicky, Manager, Trail Development & Volunteers at Trans Canada Trail. He lives in Cole Harbour, Nova Scotia, with his family. Brenden can be found on the Trail once or twice a week, most often on the Forest Hills Trail in Cole Harbour.
The Trans Canada Trail has been part of Brenden's life forever. "From an early age, going weekly to the Shubie Trail with my family, the Trans Canada Trail became a way of improving my health  and gaining fitness. To this day, I regularly go running on the Trail with my springer spaniel Beasley," he says.
De-grumpifying all winter long
For Brenden, not only does regular access to the Trans Canada Trail bring physical benefits, it also helps him to maintain good mental health. Brenden says, "The benefits of the Trail from an exercise side speak for themselves, but on the mental side, there are immense benefits as well. Running, in general, is helpful in improving my mental state (my wife tells me to 'go for a run' if I am grumpy or just generally feeling down), and being in nature provides an extra boost to my state of mind. I find, and I would say Beasley does as well, that we get bored of running on sidewalks/roads in our neighbourhood. I am not sure if it is the naturalness of the Trail, the wildlife, or the beautiful sunrises, but we both tend to finish our run with a smile."
Year-round access to nature means a year-round healthy routine
Brenden is a year-round Trail user. Even in the colder months, rather than sticking to a treadmill or the sidewalks around his home, the Trail brings the gift of nature to his daily routine. "Since I work from home, getting out on the Trail is my escape from being stuck inside for several months. In the winter months, I really get a kick out of finishing a run with icicles hanging off my face," Brenden says. He's looking forward to continuing his weekly runs with Beasley and is also hoping to get into cross-country skiing this coming winter.
Sharing his love of the Trans Canada Trail
As the parent of a young child, the Trail's continued longevity is foremost on Brenden's mind. "The Trail has been, and continues to be, an important piece of who I am. As my daughter grows older, I look forward to getting outside with her more, to continue sharing this important piece of me with her. I look forward to the day that she joins Beasley and me, riding her bike beside us, and eventually one day joining me on the Trail for a joint run." Brenden adds, "Connection is a critical piece of what the Trans Canada Trail means to me: connecting with nature, with my family and friends, just sharing those experiences with loved ones."
Ensuring the Trail's longevity for the next generation and beyond
To ensure the Trans Canada Trail's long-term survival, Brenden has generously committed to be a monthly donor. Thanks to donors and dedicated volunteers, Trail users like Brenden continue to benefit their physical and mental health year-round, enjoying access to nature from coast to coast to coast.
To Keep Nature in Mind and support the continued development and maintenance of the Trans Canada Trail, donate today!

Brenden's favourite Trans Canada Trail sections

"The newly built Gaetz Brook Greenway is everything you can ask for. During the winter months, the amazing volunteer team and regular winter maintenance paired with the beautiful snowy trees lining the trail and the frozen brook eddies are truly a sight to experience." – Brenden