28 July, 2017
High School Students Work Together to Build Cedar Archway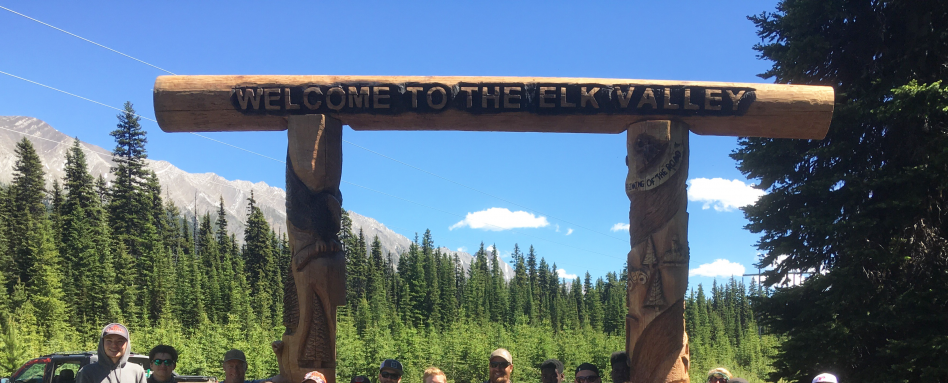 Part I: The Request to Build an Arch
A year ago, a Sparwood Secondary School teacher approached me. He was hoping to have his students build, transport and erect a carved wooden arch on The Great Trail at Elk Pass, located at the British Columbia-Alberta border. The project took many months to secure permissions, determine long-term maintenance plans, find volunteers to help with the process, obtain sufficient building material donations and get funding. It was a bold project but the students were able to carry out everything as planned! The following story, Part III, was written by a Grade 12 student who participated in the project. Trans Canada Trail provided $4,000 in expenses for the arch, and also helped secure all necessary approvals.
Written by Sarah Meunier, Trail Coordinator, BC
Part II: An Arch with Meaning
From June 25 to June 27 of this year, a project team of seven students from Elkford Secondary School, thirteen students from Sparwood Secondary School and five teachers took on the goal of constructing a welcome arch on the British Columbia-Alberta border entering the Elk Lakes Provincial Park.
Constructed from three sixteen-foot cedar logs that were harvested in the Elk Valley and donated by Stella Jones Galloway Pole Yard, the arch has one pole that represents the human elements of the valley and one pole that represents the animals of the Elk Valley. On the human side of the archway, visitors will find a miner with a pick axe, a snowboarder, a free skier, a fly fisherman and other symbols. On the other pole are many animals, including a bear, a deer and an eagle.
Along with indicating the provincial boundary, the archway also marks the entrance to the soon-to-be-completed High Rockies Trails, which stretches 80 km across the rugged Kananaskis Range.
Part III: It Takes a Team to Raise an Arch
The student teams worked together to bring the logs to the top of the Elk Pass on a cart designed and constructed by students —over a five-kilometre distance! While part of the team worked to assemble the arch, the rest participated with volunteers in educational activities such as hiking, fishing, swimming, geocaching and community park service work. The volunteers also provided their professional expertise in guiding, archery instruction and visual design.
Hiking guide Megan Kelly from Island Lake Lodge volunteered her time to take students on several hikes including Upper Lake, Petain Falls and Fox Lake. Vinny Kropodra taught introductory skills of archery.
The opening ceremonies were held on the Tuesday afternoon. Special thanks to Michael Penny, the chainsaw carver, and all the other sponsors as well as Mr. Larsen and all the teachers and students who made this project possible. The arch will stand for years to come welcoming people into the Elk Valley!
Written by Dana Barclay, Elkford Secondary Grade 12 student
For more information on the Elk Valley Arch project, visit https://elkvalleyarch.com/
---