17 December, 2018
TCT donor Ingrid Vermegen on welcoming visitors to the Trail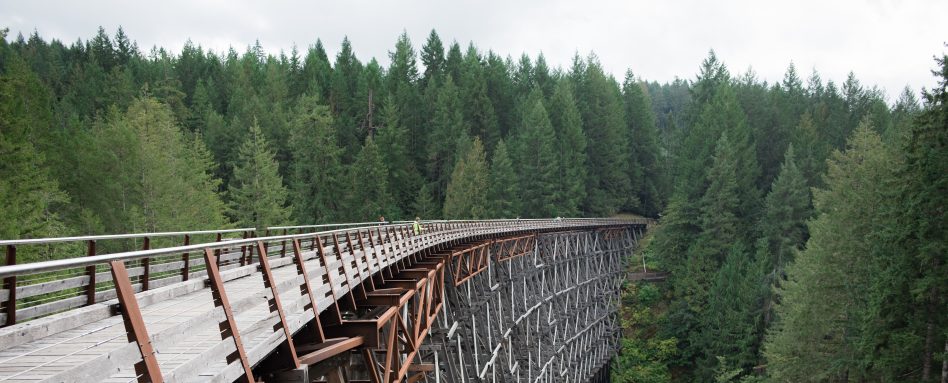 As the world's longest network of recreational, multi-use trails, The Great Trail is something that all Canadians can be proud of. However, for donors Ingrid and Simon Vermegen, taking pride in Canada's national Trail went beyond financial support.
Ingrid and Simon, who owned Cobble House Bed and Breakfast on Vancouver Island for over 25 years, would always encourage their guests to visit the Trail during their visit.
Ingrid says she was inspired to donate to TCT after learning one of its most iconic sections was just minutes from where they lived in the heart of the Cowichan Valley.
"I got interested through the Kinsol Trestle – it's a 10-minute drive from our home," says Ingrid.
"I had been following Trans Canada Trail in the news and listening to what they were going to do, and I was there when they started taking the Kinsol Trestle apart in preparation for the renovations."
Whenever Ingrid and Simon welcomed guests to Cobble House, they would recommend that they visit the Cowichan Valley Trail on their journey.
In the early years, not many visitors who stayed at the B&B knew about The Great Trail. But as time passed, more and more outdoor enthusiasts came to hike the famous Kinsol Trestle – one of the highlights of the Trail on the island. Visitors came from far and wide, with guests hailing from every continent except Antarctica.
"I would say six or seven out of 10 would go out and explore the Trail when I recommended it to them," she says.
Although Ingrid retired in September 2018, she says she's looking forward to having more time to explore the Trail beyond Vancouver Island.
We are so grateful to donors like Ingrid and Simon Vermegen for their generous support. To learn more about how you can support the continued enhancement of The Great Trail, click here.