18 April, 2023
Melissa's Trans Canada Trail: I Heart Solo Hiking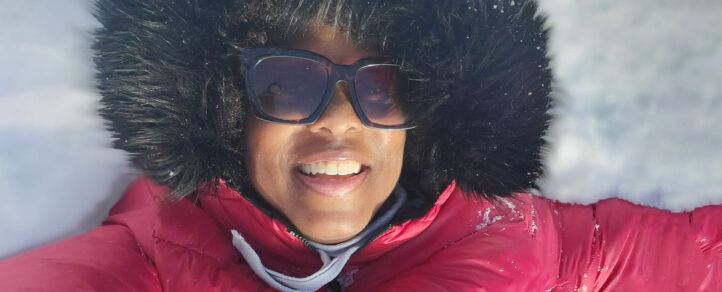 Written by Melissa Waterman 
Every chance I get, I make a point to schedule in a good hike. There are moments where I prefer to bring a few friends with me, but I also appreciate the joys of hiking alone. This article will highlight the reasons why solo hiking is good for the mind and body, and how it has become my go-to de-stressor and ideal escape after a long, grueling work week. I will also share some helpful safety tips for when you decide to head out on the trails on your own.
Find a sense of self
I began my hiking journey at the height of the pandemic. I loved it so much that it became a part of my self-care routine and a means to escape the everyday and be my best. Being surrounded by nature helps you tremendously to feel more grounded. Solitude, combined with the beauty of nature, allows for self-reflection and a look inside your soul. Remember, hiking solo is all about you, and taking in these moments is very precious. It does so many wonders for your mental health and well-being.
Boost your self-confidence
Hiking on your own can be an exciting experience, and at the same time, it will give you a sense of independence and boost your confidence and self-esteem. It also gets you out of your comfort zone.
While many people fear hiking solo, once you incorporate it into your life, you will be surprised at how much easier it gets to be out there on your own. When I experienced my first solo hike, I had no idea what to expect; I would think of the worst-case scenarios. I challenged myself and felt like I could conquer anything.
Create your own adventure
The most exciting thing about solo hiking is that you can create your own adventure. You are in control of your time and the destination. You don't have to worry about depending on others or whether or not they will cancel.
Nature has so much to offer. Hiking solo also comes with no distractions, and the beauty of it all is that you get to enjoy it at your own pace.
Accomplish something great
There is nothing more liberating than trekking the trails alone and finishing with a feeling of accomplishment. It is super empowering, and you will cherish these moments forever. What's important is that you did it on your own, and your body and mind will thank you for it!
Stay safe on your solo hike
Here are some ways you can plan effectively and ensure you have a safe and an enjoyable hiking experience:
• Post with caution: I love capturing and posting photos and videos of my trail adventures. It's very important to be cautious of when you are posting on social media. Anyone can find you nowadays. It is best to post your highlights after you have completed your hike.
• Tell your loved ones of your whereabouts: Before heading out on the trails, I usually let my son or my parents know where I am going just in case. Make sure to tell a friend or relative where you plan on going.
• Research trails in the area: This is also super important, as you want to make sure to hike in a place where other people are around. Never hike anywhere isolated or less traveled without being properly prepared and knowing what you're getting into. Looking at reviews can be a helpful way to determine good hiking options for you.
• Hike with the proper essentials: When you plan for your solo hike, always remember to pack your backpack with items such as water, a charging pack for your phone, snacks, a first-aid kit and extra clothing. Having these essential items will give you peace of mind.
Happy hiking! 
Watch for more stories from Melissa where she shares her Trail experiences! You can also follow her adventures on Instagram @singlemomonthemove