1 February, 2018
Sounds of the Trans Canada Trail: 25 Quebec Songs You Need to Hear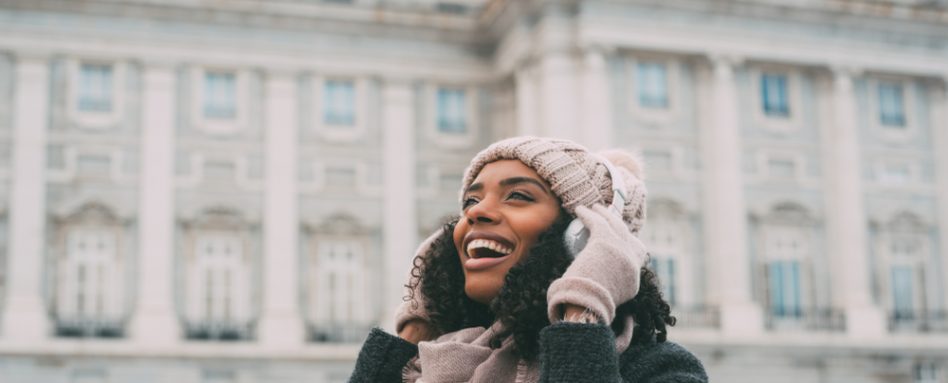 The music of Quebec fuses together a myriad of influences – from Indigenous songs and European airs to modern, avant-garde sounds!
From Québécois crooners and 1980s hit-makers to Aboriginal folk artists and energetic indie bands, the multilingual songs of this province are as diverse as they are catchy! Here are 10 favourites from our playlist.
1. La journée qui s'en vient est flambant neuve – Avec pas d'casque
This dreamy folk song from Montreal band Avec pas d'casque starts our playlist. Starting slow, it builds up to a lo-fi crescendo that brings to mind other rock heavyweights, such as Fleet Foxes and The National.
2. Les amoureux qui s'aiment – Les Trois Accords
Mixing elements of punk québécois with a "pop" sound, this band from Drummondville is known for their somewhat outrageous style. And it paid off – just two years after the band released their first album, they were the opening act for The Rolling Stones when they played in New Brunswick in 2005!
3. Montreal -40C – Malajube
Conjuring up both the bitter cold of a Montreal winter and the excitement of the city's youthful scene, this frenetic and fun anthem charms francophones and anglophones alike.
4. Jealous (I Ain't With It) – Chromeo
This Montreal-based electro-funk duo have made their names as slick producers of retro, danceable tunes since they dropped their first LP in 2004. Since then, they have also worked with pop and indie heavyweights Ezra Koenig, Solange and Toro y Moi!
5. Donne-moi ma chance – Les B.B.
One of the province's most successful bands in the 1980s and early 1990s, Les B.B. have a special place in the hearts of many Quebecers! One of their biggest hits, Donne-Moi Ma Chance, is one of their best nostalgic hits, and was made more poignant by the passing of lead singer Patrick Bourgeois in late 2017.
6. James Bay – Lloyd Cheechoo
First recorded as a half-finished folk song in the early 1970s, this track only received widespread recognition when it featured on the Grammy-nominated Native North America (Vol 1) in 2014. Lloyd Cheechoo, a Cree musician from Eastmain, uses powwow rhythms and a distinctive bass line in this classic.
7. Hey, That's No Way to Say Goodbye – Leonard Cohen
The late, great Leonard Cohen is one of Canada's best-known creative minds. This tender and heartbreaking tale of an ending relationship is one of the Montreal poet's best works, and appears on his 1967 album, Songs of Leonard Cohen.
8. Reflektor – Arcade Fire
When Arcade Fire released Reflektor, they didn't just match their fans expectations – they exceeded them. Featuring a performance from their long-time fan, David Bowie, this dance-rock track showed how versatile and creative the Montreal band could be.
9. Te Quitter – Daniel Bélanger
One of Quebec's most eclectic musicians, Daniel Bélanger is famous for writing wistful, sometimes humorous songs that take inspiration from alternative rock, folk and electronic music. Te Quitter appears on his 2001 album Rêver Mieux, which was later certified Platinum in Canada.
10. Tassez-Vous De D'là – Les Colocs
Inspired by the sounds of reggae, this 1998 song from Les Colocs is one of their best-known tracks. Throughout its career, the group promoted tolerance and had a multicultural lineup, featuring members from Indigenous backgrounds, Belgium and Catalonia, as well as Quebec sovereigntists.