24 October, 2022
Sticky Fingers and Hard Trails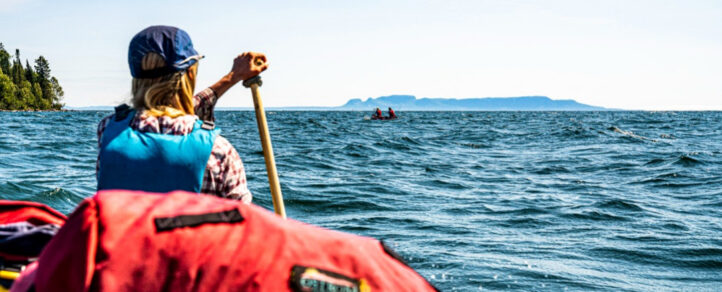 Text and photos by David Jackson from Path of the Paddle Association. Location: Path of the Paddle on Maukinak Trail.
We left Vermillion Bay resupplied and hardened by the trail in such a way that we knew that whatever lay ahead would be manageable. Beginning at the labyrinth of Eagle Lake, we moved until the late afternoon sun transitioned into the pull of a full moon guiding us on in the night. We knew winds could sit us down for days on a lake of this size, so we moved with a feverish pace to enter the smaller waters of the Maukinak Trail. Although we were moving, we knew what lay ahead was going to be a battle of endurance, as leaving Vermillion Bay meant we had only nine days to cover almost 300 kilometres and 64 portages to our next resupply in Atikokan.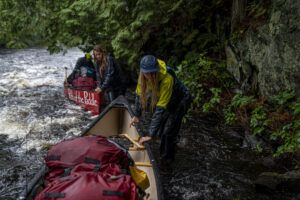 For nine days we paddled until a small white Trans Canada Trail sign came into view, then we unloaded our boats and carried all our gear twice over the trail. This meant we walked every portage three times, twice loaded, once empty on the return, until we reloaded on the other side, then paddled on. Some days, we would carry 10-12 portages totalling nearly 3 kilometres of trail, meaning we would walk 9 kilometres per day in addition to the 30 kilometres of actual distance we had to maintain to keep ourselves on schedule. We quickly realized that we were not going to stay perfectly on track as the trails are quite time-consuming, in addition to being physically taxing. To make matters worse, storms began rocking our world, and while we often assumed that the lightning, wind and rain would subside, we came to know that for the three weeks ahead, the weather was seldom going to improve.

| | |
| --- | --- |
| | |

We finally reached Atikokan in a wild blaze of action. We ran around gathering our resupply materials so we could make up for lost time. We had hoped for rest and reflection, but instead had a tight window of time to gather essentials and begin the big, hard push to Lake Superior, another 225 kilometres away. Leaving the self-proclaimed "Canoeing Capital of Canada" meant we were embarking into the heaven so many paddlers dream of visiting: Quetico Provincial Park. Quetico is considered a wilderness park, and there would be no signs to update for roughly 100 kilometres, as the park offers no markers for campsites, portages, falls or rapids. Paddlers are left with a sense of wild space where navigation and route planning are dictated by diligence and experience. For Branwen, Leah and me, it's an area we are intimately familiar with, and we could almost travel without a map. The landscape and campsites are our backyards, and Bruce was quickly immersed in the wildness of the park. In the south end, we were joined for a day by legendary park warden Chris Stromberg, whose stories are rivalled by few.

| | |
| --- | --- |
| | |
Once we were through the park, the sticky business of applying stickers to update Trans Canada Trail signs was resumed. We felt a sense of comfort, almost as if we were reunited with an old friend, at the task of helping the next traveller find their way. For 27 days we had been ascending the Arctic Watershed, occasionally going with the flow, but always battling higher towards the height-of-land, a magical place where a small neck of rock and mud divide water bound for different oceans. As we paddled across North Lake, whose waters go to the shores of Hudson Bay and Churchill, MB, home to many polar bears, we crossed the short portage into South Lake. For the first time on the trip, we dipped our paddles into water destined for the Gulf of the St. Lawrence and the Atlantic Ocean. We felt like raindrops choosing a different journey, and in the days ahead, the trails led us to the fresh water of Lake Superior.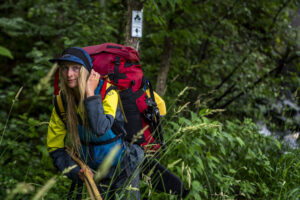 The world's biggest lake is no safe place for unprepared canoeists, but with diligence and careful decisions, it's an exceptional place to float a boat. Shorelines are steep, often cliffy, and beaches line bays backed by mountains. Leah and I call this lake home, and as we bobbed in the splendour of a sea cave, our breath rising in little puffs from the lake's icy chill, we couldn't help but smile. One thousand kilometres of waterways had brought us here, through a network of trails – the magical link between lakes, rivers and streams.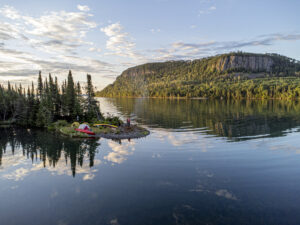 As the sun rose on our final morning, the cliffs surrounding Sturgeon Bay lit up in an orange glow. We were at a new campsite on the Path of the Paddle, and a new Trans Canada Trail sticker beamed behind our tents. South winds were beginning to roll in from the lake, and we hurried through the idyllic place the canoes had brought us. As we surfed and danced in the waves under the watchful eye of the Sleeping Giant, we could see the small beach that would be our ending place for the trip.
After ceremonious high fives and a round of hugs, we were done. There was no greeting party, just us and our strong backs, veiny arms, pumped up legs and a mind full of memories from a summer on the Path of the Paddle. For 29 days, we paddled on the Trans Canada Trail. We created a memory worth cherishing forever along life's winding journey.