19 November, 2019
The Great Trail Instameets in B.C., Manitoba, and Nova Scotia prove we're better together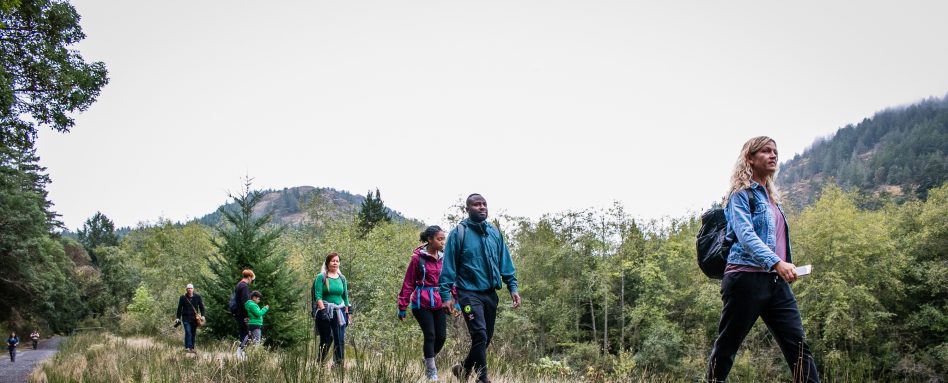 The advent of social media has enabled people from across Canada and around the world to connect in profound ways. A new initiative on The Great Trail is helping make those virtual connections real by rallying Trail users for Instameets – organized get-togethers on the Trail for people who know one another through Instagram or other social media platforms.
So far, TCT has hosted three Instameets across the country, inviting Trail users and Instagrammers to meet new people, explore a section of the Trail and share their passion for the outdoors. One of the key tenets of these events is to encourage people who might not see themselves as "hardcore hikers" to use the Trail, and show them that both rural and urban Trail sections are easy to explore.
TCT also worked with the Institute for Canadian Citizenship (ICC) so that each Instameet would encourage active citizenship, create an opportunity for new citizens to connect and inspire inclusion.
Each Instameet on The Great Trail featured a guided walk for participants, which took in the history and features of the local section of the Trail. Participants were also invited to share their photos and stories from the Instameet using the hashtag #BetterTogetherTGT. We spoke with Instameet guests at each location who shared their impressions of the experience.
Instameet Winnipeg
August 7 2019
Winnipeg resident Dayna Robbie has a nine-to-five desk job as a communications professional during the work week, but on Saturdays and Sundays she transforms into a "weekend warrior" who is passionate about spending time outdoors. She says the Instameet invitation from The Great Trail made her feel both honoured and excited.
The Winnipeg meetup led participants through urban segments of The Great Trail in the city's Forks neighbourhood. "I had knowledge of The Great Trail, but until the meetup I didn't know much about the urban sections of The Great Trail," said Dayna. "In Manitoba, it can be quite a drive to get to certain locations with good hiking spots. You don't have to drive two hours; you can explore an urban trail."
Dayna says she enjoyed the sense of community she felt during and after the Instameet. "The Great Trail is about connecting people from coast to coast. The Instameet felt like connection; both a physical connection on the Trail and connecting to other people with the same interests."
View this post on Instagram
Instameet Langford
September 14 2019
Sooke Hills Wilderness Regional Trail, Vancouver Island
A British Columbia Instameet organized in collaboration with Tourism Vancouver Island and the City of Langford was also a huge hit. A local Trails BC volunteer guided participants through the Sooke Hills Wilderness Trail, which includes stunning sights such as Waugh Creek Falls and a suspension bridge over the Goldstream River. Following the hike, participants enjoyed a catered lunch featuring local cuisine from House of Boateng.
Budding professional photographer Luke Cross's talent is evident in his Instagram feed. Hailing from London, England, he now loves living in Duncan, B.C. "I grew up surrounded by concrete; here, there is nothing but wide open spaces and trees. There is nothing like this where I grew up," he says. As a photographer, he seized plenty of opportunities to capture amazing photographs on the Trail.
View this post on Instagram
Instameet Dartmouth
September 22 2019
Dartmouth, Nova Scotia
After a celebration at the Dartmouth Pavilion recognizing the Canadian Military Engineers, the Dartmouth Instameet group was introduced to a rural section of the Salt Marsh Trail in Cole Harbour, a former railway bed that offers stunning Atlantic Ocean views.
Since their Instameet experience on The Great Trail, the two participants we talked to said they have stayed in touch online with others they met through the experience. They also noted virtually that almost all participants said their Instameet helped them feel more connected to their community and Canada as a whole.
View this post on Instagram
Trans Canada Trail is a not-for-profit organization. If you value our work, please consider supporting us by visiting our Give page.
---