19 January, 2023
Trail Profile: Ville de Longueuil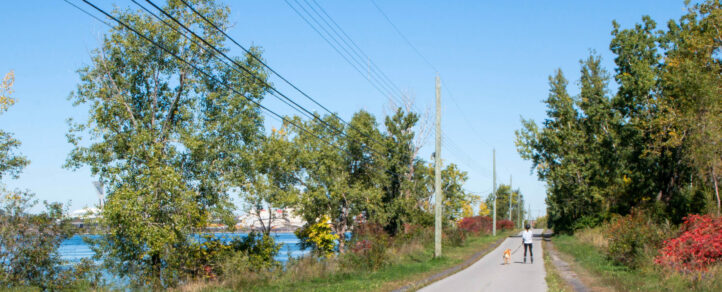 Running through the City of Longueuil on Montreal's South Shore, the Ville de Longueuil Trail offers 28 kilometres of walking, hiking or cycling paths in the warmer months, or walking or cross-country skiing in the snowy season.  

What we love about the trail 
• Views of the river and downtown Montreal 
• Proximity to treats in Vieux-Longueuil 
• City parks, perfect for sledding, picnicking or playing 
• Great cycling routes along la Route Verte 

Enjoy waterfront views  
Start out near the Jacques-Cartier Bridge and head along the waterfront through several parks, enjoying views of downtown Montreal and the St. Lawrence River. Just off the Trail, you'll find the neighbourhood of Vieux Longueuil, which offers up cafés, restaurants and shops if you're in the mood to peruse the goods or stop for a snack. 
Pause at the park 
The trail continues to the south alongside Parc Michel-Chartrand, a sizeable city park that features a pond, wooded areas and more. In the winter months, cross-country ski or bring the little ones to the epic sledding hill. In the warmer months, walk in the wooded section of the park, keeping an eye out for birds and deer that live in the park. Or, head over to the pond or playground areas to keep the kids happy. 
The trail continues through the city along cycling and walking paths, eventually linking up to the Ville de Carignan Trail.