10 August, 2010
Agreement to complete New Brunswick's Trans Canada Trail by 2017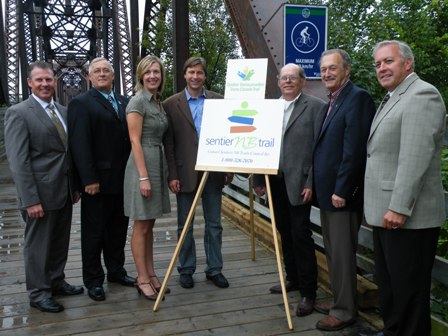 On August 3rd New Brunswick Premier Shawn Graham, the Trans Canada Trail and the New Brunswick Trails Council announced that a memorandum of understanding had been reached to complete the Trans Canada Trail in the province by 2017.
In addition to Premier Graham, on hand to celebrate were the Hon. Rick Miles, Minister of Environment; the Hon. Wally Stiles, Minister of Natural Resources; Poul Jorgenson, Executive Director, New Brunswick Trails Council; the Hon. Hédard Albert, Minister of Wellness, Culture and Sport; the Hon. Greg Byrne, Minister of Finance, and Jane Murphy, National Program Coordinator, Trans Canada Trail.
"Trans Canada Trail is currently developing the world's longest network of trails, linking 1,000 communities and more than 33 million Canadians," said Ms. Murphy. "New Brunswick offers an exciting variety of trail experiences, from the world-renowned Bay of Fundy to sparkling rivers, diverse ecosystems and the charm of its communities."
Premier Graham said that developing a better trail system is key to giving New Brunswickers more opportunities to lead healthier, more active lifestyles.