17 November, 2008
Corner Brook celebrates province's third pavilion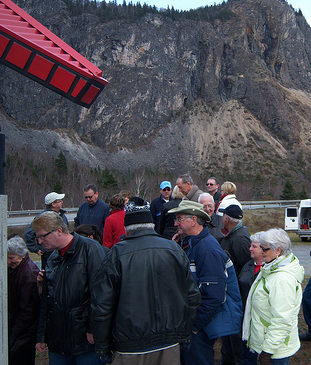 Newfoundland's third Trans Canada Trail pavilion was officially unveiled in Corner Brook on Friday, November 14 under the watchful eye of the Man in the Mountain. The natural rock formation is located on the Humber River just up from a lookout area where the pavilion displays the names of close to 700 donors.
Newfoundland T'Railway Council President Jamie Warren said the opening brings renewed attention to the Trans Canada Trail and he hopes the momentum will continue to grow as the Newfoundland section of the national trail moves closer to completion.
Corner Brook City Councillor Leo Bruce said the pavilion was a good addition to the city's tourism potential and he thanked all involved in getting the pavilion erected, especially the donors.
The Corner Brook event was held in conjunction with the Newfoundland branch of the International Appalachian Trail which uses part of the T'Railway/Trans Canada Trail as its route which veers north from Deer Lake and follows the Long Range Mountains up Newfoundland's Northern Peninsula.
The T'Railway Council also handed out three volunteer service pins – two to current Board Members Jamie Warren and Lloyd Harnum (both for five years service) and one to T'Railway's founding president Otto Goulding who received a 10-year pin. About 50 people attended the opening.