4 August, 2008
Second Newfoundland & Labrador pavilion opened in Gander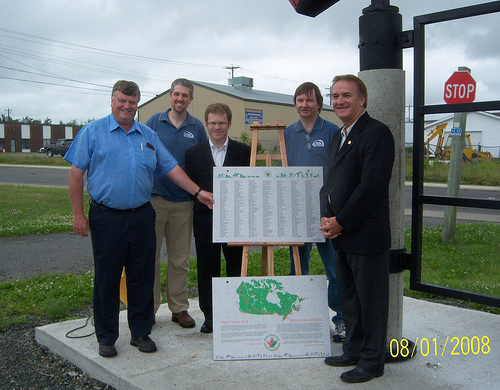 A small but enthusiastic crowd of about 25 people braved grey skies and threatening clouds to attend the official opening of Newfoundland's second Trans Canada Trail pavilion in Gander on August 1.
Gander Mayor Claude Elliott, along with MP Scott Simms, MHA Kevin O'Brien and T'Railway Council President Jamie Warren, brought greetings and thanked donors and the Trans Canada Trail and the Newfoundland T'Railway Council for their efforts to build and promote the Trail across the country.
The opening coincided with celebrations of Gander's 50th Anniversary as an incorporated town. Once known as the "Crossroads of the World" for the large number of trans-Atlantic flights using the international airport, Gander is now home to nearly 11,000 residents who can boast of having the Trans Canada Trail running right through their town.
The Newfoundland portion of the TCT, a former railway line, extends 883 km from St. John's in the east to Port aux Basques in the west. The T'Railway Council is in the 2nd year of a three-year initiative to refurbish all 132 former railway trestles along the trail.
Submitted by Terry Morrison, Executive Director, Newfoundland T'Railway Council