22 December, 2010
Trans Canada Trail Director appointed as Chair for The Charter for Business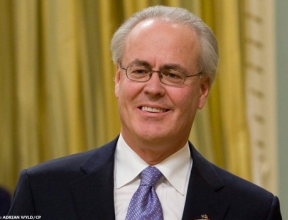 Hartley T. Richardson, Trans Canada Trail Board Deputy Chair, will officially take office as the fifth Chairman of the Duke of Edinburgh's Award Charter for Business on January 1, 2011. Hartley, a Winnipeg native and the seventh family President of James Richardson & Sons, is well-known for his community involvement and philanthropic endeavours.
The Charter for Business was established in 1996 to support the expansion of the Duke of Edinburgh's Award program across Canada and has raised $13 million from corporations and individuals. These funds are used to underwrite costs to ensure that potential participants are included regardless of financial situation; to increase public awareness; to reach out to "at risk" youth; and to help young Canadians develop their full potential.
Hartley's son Thor is a past participant in the program, receiving his Gold Award from Prince Edward in 2008. He has since gone on to become a full-time student at the Richard Ivey School of Business and the co-owner of a seasonal enterprise. Hartley praises the DoE Award program as a…"rewarding way to develop the skills, confidence, teamwork and perseverance key to entering the workforce".
Trans Canada Trail President and CEO Deborah Apps said, "We are very fortunate to have Hartley as a member of the Trans Canada Trail Board, and know that the Duke of Edinbugh' s Award Charter for  Business will benefit greatly from his dedication and leadership, just as we do."