23 June, 2008
Trans Canada Trail welcomes new President/CEO and Directors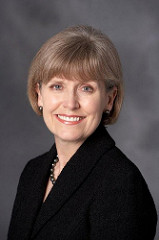 The Board of Directors of Trans Canada Trail has announced the appointment of Deborah Apps as President and CEO, effective immediately.

Ms Apps is a senior professional with more than 25 years of experience in health care, education, the arts and the not-for profit community. She previously served as Senior Vice-President of Communications and Community Relations for the Calgary Health Region, President and CEO of the Alberta Children's Hospital Foundation and Executive Director of the University of British Columbia Alumni Association.
"The Trans Canada Trail is delighted to welcome Deborah Apps as President and CEO," said Valerie Pringle, Chair of the Trans Canada Trail Board. "She is well-known for her leadership in non-profit management, successful fund development campaigns, strategic communications and fostering collaborative relationships with key stakeholders. Her experience and skills are exactly what we need as we move forward in building the Trans Canada Trail. Deborah has been a member of the Board for the last three years and she is passionate about the Trail as an important Canadian legacy project."
The announcement of Ms Apps' appointment was made at the Annual General Meeting of the Trans Canada Trail, held in Winnipeg on Saturday June 14. Members of provincial trail organizations were on hand to discuss the progress in developing trail sections across the country. At the meeting, four new directors were also appointed to the Board. They are:
Hartley T. Richardson, President of James Richardson and Sons, a private family-owned corporation with broad corporate interests. Mr. Richardson currently serves as a director of Canadian Pacific Railway and Angiotech Pharmaceuticals Inc. He is involved in a broad range of business and community organizations and charitable endeavours. He is a Member of the Order of Canada.
Edwina Stoate, Vice-President, Global Expense Management and Sourcing with Manulife Financial. She is a senior professional with more than 25 years of broad financial experience and skills in corporate finance, securities operations, investor relations, communications and marketing.
Rick Morgan, President of Morgan Leadership Search. He has been engaged in senior executive search for over 25 years in both the public and private sectors and has worked on behalf of many of Canada's top organizations. He is an avid trekker and outdoor enthusiast.
Claire Morris, President and CEO of the Association of Universities and Colleges of Canada. She previously served as deputy minister of intergovernmental affairs in the Privy Council Office of Canada and as deputy minister of Human Resources Development Canada. She has extensive involvement in the community and voluntary sector.
-30-
For more information, please contact:

Jane Craig, Director of Communications, jcraig@tctrail.ca, 647-637-5331