22 December, 2021
5 Ways Your Gift Makes a Difference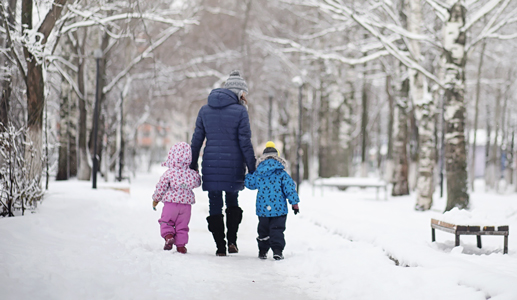 This year it's more important than ever to have opportunities to spend time outside, socially connected yet maintaining the physical distance that will keep us all safe and healthy. The COVID-19 pandemic has meant that more people are looking for ways to stay active, enjoy fresh air and explore local sights.
With so many more people choosing to adventure on the Trans Canada Trail alongside long-time trail enthusiasts, it's vitally important that everyone feels welcome!
Choosing to donate to Trans Canada Trail means you are taking action to make the world better for yourself, your family and friends, and your neighbours.
---
Here are 5 ways your gift makes a real difference in people's lives:
Discover the Natural World
Remember the first time you saw a blue jay? A bright pink flower that peeked out from behind a bush? Or maybe even a spider that had spun the most incredibly intricate web between two trees? Spending time on the Trans Canada Trail means you can explore and hunt for things you've never seen before – a real adventure!
Father and son, Scott and Trevor Haldane discovered a shared passion for amateur wildlife photography – often on the Trail – and wanted to inspire others to get outside and enjoy the beauty of the Canadian wilderness. They wanted to give back so they recently hosted a photography event fundraiser in support of Trans Canada Trail. View the recording here!
Active and Healthy
Walking, running, hiking, hopping, skipping, skiing, cycling, wheeling and paddling are all fantastic ways to traverse the wide variety of landscapes you'll find on the Trans Canada Trail! Taking the time to get active helps keep you healthy – physically, mentally and emotionally. Whether you venture out on your own or with a group, congratulations to you for making time for your health.
Community Connections
Since COVID-19 arrived in our lives, one of the things that we've missed is spending time with our friends and family. With health professionals recommending that time can be spent together under the right circumstances, there's never been a better time to meet up on the Trans Canada Trail. That's where you'll find plenty of space to maintain physical distance but also be close enough to chat and, who knows, maybe even make some new friends along the way.
---
---
Accessibility
Did you know that 80% of Canadians live within 30 minutes of a section of the Trans Canada Trail? We're always working on new ways to increase accessibility so people of all ages and abilities can explore the Trail. This includes adding amenities like benches, wheelchair ramps, fully accessible washrooms and wayfinding signage. Your support goes a long way in ensuring EVERYONE is able to fully enjoy their Trail experience.
Maintenance and Repairs
Your support provides funding for maintenance and emergency repairs to the Trail when it's damaged by floods, fires, storms or other natural disasters caused by extreme climate occurrences. Our "to-do" list is ever-evolving but it's essential work that ensures the long-term health and vitality of the Trail.
---
---
With your help we can accomplish so much.

There's never been a better or more important time to give to Canada's national trail!

Until December 31, 2021, your gift will be matched – up to a total of $25,000 – by the Grayross Foundation. Their generosity, combined with yours, will ensure we can continue to enhance and protect the Trans Canada Trail.
---
Donate today to enhance and protect the Trans Canada Trail for future generations!
Trans Canada Trail is a registered charity and you will receive a tax receipt for your donation (minimum of $10).