17 November, 2022
Columbia Sportswear x Trans Canada Trail: Here's What We Did Last Summer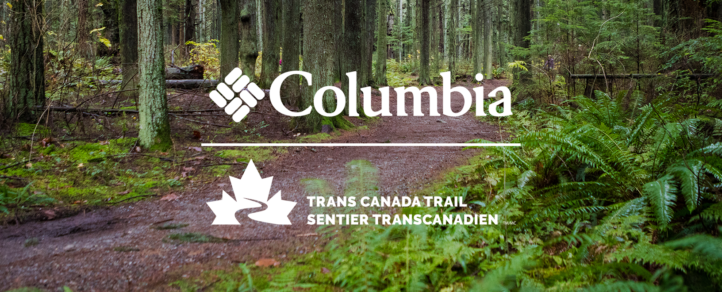 It's been an amazing few months!  
From Trail improvement projects to torch relays and more, here's a look back at everything we've accomplished this summer, with thanks to our partners at Columbia Sportwear.  
Working with Columbia Sportswear is a no-brainer: with their mission to unlock the outdoors for everyone and our vision to inspire people to get outside and experience everything nature has to offer, it's a natural fit. We're so proud to be working together and are grateful for their support! 
Showing our love with Trail Care 
This spring, we awarded Trail Care Grants to 166 organizations and volunteer groups in every province and territory across Canada. Trail groups organized clean-ups, repairs, upgrades and more.
Project leaders and volunteers were the lucky (and happy!) recipients of Columbia Sportswear T-shirts and personal gear. 
Watch our recent Trail Care video here:
Find out more about Trail Care here, and stay tuned for upcoming projects! 

Canada Games Torch Relay 
Leading up to the Niagara 2022 Canada Summer Games, we hosted a nine-stop torch relay along the Trans Canada Trail network in Ontario and Quebec.
Community members from towns and villages along the route came out to celebrate, cheer on torch bearers as they kept the flame alive and helped to #LightUpTheTrail.  
Our partners at Columbia Sportswear generously provided gear to participants and volunteers along the route. Spirits were high and fun was had! 
Catch up on the summer games torch relay here: 

Getting great gear out there 
We all know the best way to keep people happy is to show your appreciation, and Columbia Sportswear has helped us do just that.

View this post on Instagram
We've distributed co-branded Trans Canada Trail x Columbia Sportswear gear to staff and board members, at events, with influencers, donors, through giveaways… in short, people love our co-branded gear, and we love giving it out!

Up next: lots of exciting projects! 
Partners like Columbia Sportswear allow us to show our gratitude and support Trail volunteers who help maintain and enhance the Trans Canada Trail – in other words, who help make the Trans Canada Trail the gem that it is!  
It also helps us to increase our reach and bring awareness to the Trans Canada Trail, encouraging people to get outside, get active and stay healthy, both physically and mentally. We look forward to continuing our partnership through great projects like Columbia Sportswear's PEAKFREAK FRIDAY series (shown above, featuring Trail leaders Jay and Colleen Tofflemire!), our winter wellness and mental health campaign, Blahs to Ahhhs, and through supporting trail groups in our upcoming Trail Care session in the spring of 2023.