22 June, 2022
Trail Care Events are Underway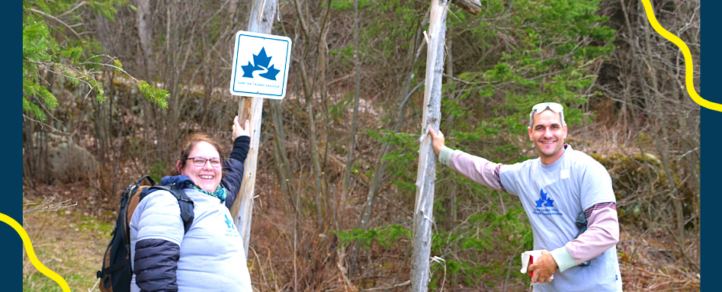 This year we were proud to award Trail Care Grants in support of 166 Trail organizations and volunteer groups, across every province and territory, that operate, maintain and enhance the Trans Canada Trail from coast to coast to coast.
Trail Care events
These events have already started and volunteers all over the country are working hard to maintain and enhance their sections of the Trans Canada Trail, including:
Yukon
A Trail Care event held on June 4, International Trails Day, in Haines Junction, Yukon, where volunteers worked on Pine Lake Trail by installing new signage, staining posts, repairing cracks, and sweeping away any rocks or debris near road crossings. They sent a big thank you to Columbia Sportswear as well, for sponsoring the event and providing gear for event volunteers.
Alberta
The Town of Innisfail, Alberta, is using their Trail Care Grant to work with community partners and volunteers at Dodd's Lake, fostering trail stewardship and doing maintenance so that even more people can enjoy their time on the Trail!
Quebec
In the municipality of Stukely-Sud, Quebec, enthusiasm was high for their Trail Care event as volunteers cleaned up their section of the Trail and removed fallen trees and branches to allow pedestrians to pass, ensuring safety for all Trail users.
Nova Scotia
A group of volunteers from St. Mary's Trail Association in Nova Scotia have been hard at work putting the Trail Care funding they received to good use by installing access control gates, undertaking brush control, doing surface maintenance and generally cleaning up.
Tireless efforts
The tireless efforts of volunteers to keep the Trans Canada Trail in great shape across the country are truly appreciated!