Background
The Signage Stream was designed to develop and implement trail signage projects that will increase and improve the quality and value of the Trans Canada Trail, as well as improve the safety and comfort of users.
Eligibility
All applications must meet the eligibility requirements outlined in the in Section 2 of the Trail Funding Program's Framework
Applicants must provide valid proof of liability insurance, as it pertains to the section of the Trail where the project is taking place.
Applicants will be required to submit a comprehensive sign plan and/or artwork for the submitted project
All sign designs must integrate the Trans Canada Trail logo and must be approved by Trans Canada Trail prior to manufacturing. Trans Canada Trail branding guidelines and vector-based logo files are available, upon request
Reference
The Trans Canada Trail Signage Best Practices manual is available to assist in your signage success. Should you need further assistance, dedicated Trans Canada Trail staff is available to discuss your project and provide direction.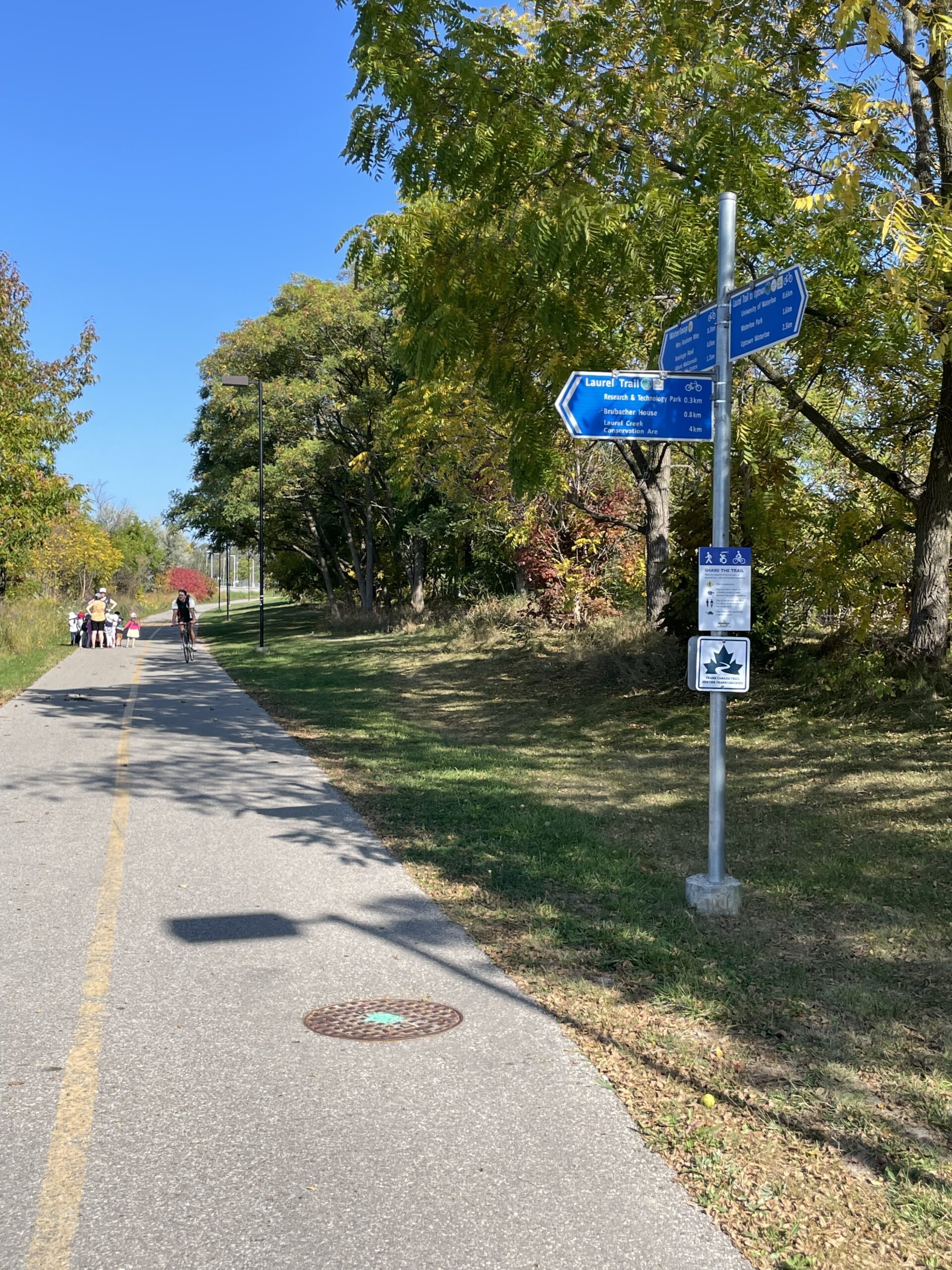 Financial support
Wayfinders, regulatory and safety signage
Up to a maximum of 35% of eligible expenses for the purchase of signposts and the required installation hardware – including sign design
Maximum contribution is limited to $50/km
To place an order for Trans Canada Trail wayfinders, please use

this ordering form
Trailheads
Up to a maximum of 35% of eligible expenses for the design, production and installation of a trailhead infrastructure
In the case of a trailhead update or a panel replacement on an existing structure, the maximum contribution is limited to $1,000/site
In the case of a new trailhead installation, the maximum contribution is limited to $5,000/site
Interpretive panels
Up to a maximum of 35% of eligible expenses for the design, production and installation of an interpretive panel infrastructure
In the case of an interpretive panel update or a panel replacement on an existing structure, the maximum contribution is limited to $700/site
In the case of a new interpretive panel installation, the maximum contribution is limited to $2,000/site
Project examples
Trailheads or kiosks. Can include:
Name of the trail and its location
Emergency contact information
Trails maps
Rules, regulations and trail use icons
Warnings, cautions and trail classification information (if applicable)
Bulletin board to inform trail users of major events happening in the community
Information about the trail's ecology and environment, with tips to minimize environ- mental impacts
Historical information or other interpretive information to enhance user experience
Regulatory, warning, safety and cautionary signage
Regulatory and warning signs should be placed along the trail at appropriate locations
Custom cautionary signage should be created when there is a hazard, in order to reduce risk
Wayfinding signage
Trans Canada Trail provides directional arrows and single logo aluminum wayfinders to registered trail operators, free of charge
Additional or custom signs may be required to ensure safe travel. These can include multi-logo wayfinders and custom arrows
Kilometre markers
Kilometre markers can significantly enhance the trail experience, provide information on tracking distance, and can be used in case of emergency to confirm a trail user's location
Directional signage
Directional signs provide information to trail users about the location of amenities along the trail including parking, access points, water and washroom facilities
Interpretive signage
Interpretive signs are intended to educate trail users through the use of inclined story boards. The signage can include information on local flora, fauna and history
Surface markings and striping
Surface markings should not replace signage, since they are less visible and can be obscured depending on weather conditions
These markings are often used to indicate permitted trail uses, speed limits, crossings and the direction of travel
Donor recognition signage
Donor recognition signage provides acknowledgement to those who made a significant financial contribution to a trail project
Art or other creative structures
Art on the trail is a welcome addition and also enhances the experience. Sculptures, murals and other forms of art can be used in conjunction with signage or as a stand- alone piece