ALL PERSONS TRAILS
Guidelines for Planning and Designing All Persons Trails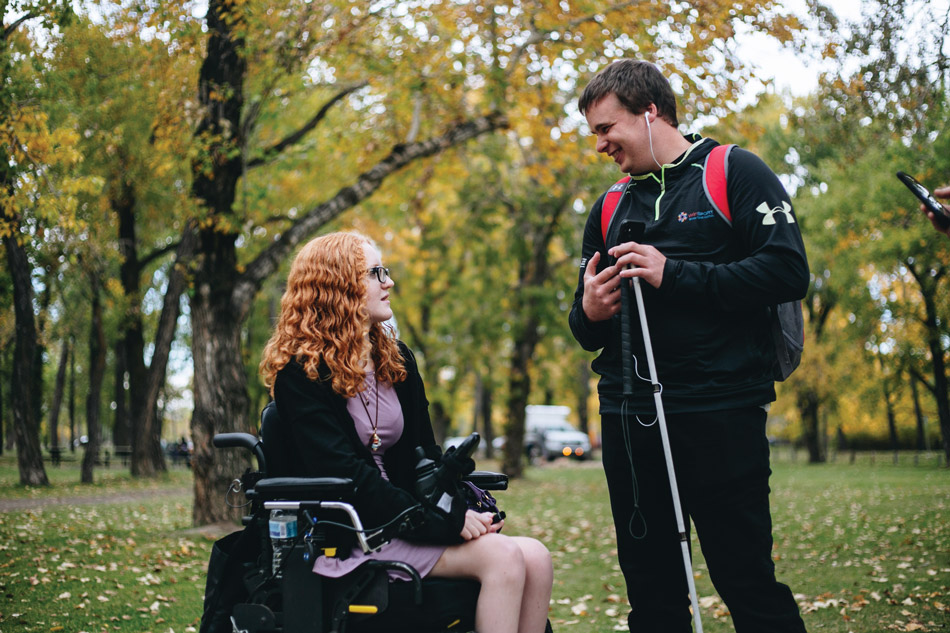 What is an All Persons Trail?
All Persons Trails welcome everyone by providing an inclusive outdoor experience for all. By going beyond common accessibility standards, All Persons Trails provide visitors with a wide range of needs access to a variety of trail experiences. Although these experiences may vary from trail to trail, they often include a firm trail surface, accessible infrastructure, navigational tools, experiential features such as tactile elements or a sensory garden, and much more!
These Guidelines include helpful recommendations for anyone looking to create trails that are accessible for everyone. By working with trail groups who have created trails that go beyond standard compliance, and engaging trail users with lived experience, we identified strategies and on-the-ground techniques for improving trail accessibility. Using examples, photos, and simple language, these new guidelines offer trail managers a broad range of creative ideas and recommendations for creating a safer and more enjoyable experience for everyone.
Let's build trails for everyone !
The following guidelines are intended to provide ideas for your trail. For accessibility standards and requirements, please be sure to refer to those that apply to your specific trail. Read full disclaimer here.
If we have made an error in any of the material, we sincerely apologize. Please send an email to tkaplan@tctrail.ca to let us know.
These guidelines are being made available to our Trail partners and the trail sector in general to help trail operators improve trail accessibility, and to consider, plan and develop All Persons Trails. The guide does not include accessibility requirements, standards or engineering specifications. All illustrations and photos are included for example purposes only and should not be used as an issued directive for the development of accessible trails. Trail operators, planners and designers are responsible for ensuring their trails and trail infrastructure meet applicable standards and are approved, designed, constructed and managed by properly qualified experts. Trail operators should regularly review their trail's condition to ensure it continues to meet applicable standards. Trans Canada Trail (TCT), its contractors and other contributors assume no liability for this content or its application.
Acknowledgements
A special thank you to the following individuals and organizations who contributed to Trans Canada Trail's All Persons Trail Guidelines, and who inspire us every day to make the Trail more inclusive for everyone:
Aaron Prevost, Disability Advocate
Cédric Larouche, conseiller senior en accessibilité, Kéroul
Christa Costas-Bradstreet, Director, Partnerships. Canadian Parks and Recreation Association
AccessNow
Christiane Desroches, directrice générale du Conseil québécois du Sentier Transcanadien
Jane Arkell, Executive Director, Active Living Alliance for Canadians with a Disability
Janis Neufeld, Chief Executive Officer, Inclusive by Design Association
Lucy Gertz, Director of Adult Education and Accessible Programs, Mass Audubon
Maayan Ziv, Founder and CEO, AccessNow
Matthew Corkum – Disability Advocate
Nathalie Roy, Directrice des services aux entreprises et du Programme d'accessibilité des établissements touristiques (PAET)
Noah Papatsie, Disability Advocate, NDMS Nunavut Disabilities Makinasuaqtiit Society
Rick Watters, RHFAC Accessibility Professional, EnAble Wellness Inc.
Shira Standfield – Advisor, Visitor Accessibility and Inclusion, Parks Canada

Stu Weinreb, Mass Audubon