1 February, 2018
Québec Romantique: 8 Valentine's Day Ideas in La Belle Province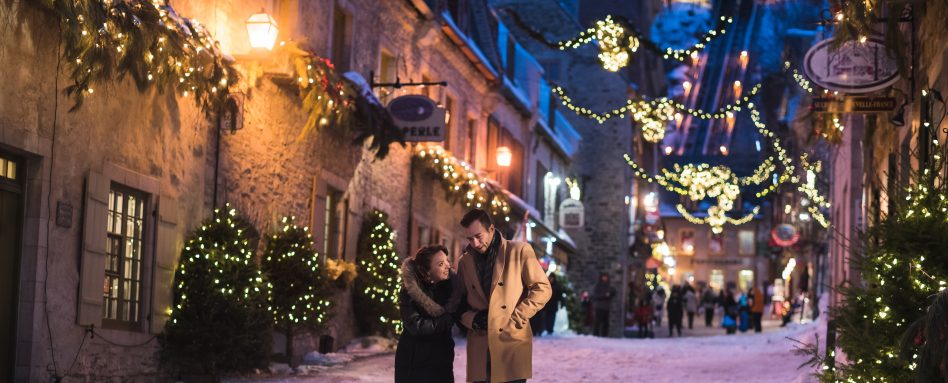 Seeking a little 'je ne sais quoi' this Valentine's Day? Whether you want a romantic outdoor adventure or a luxurious dining experience with that special someone, Quebec has it all.
Ready to fall in love? Watch our new video and read these tips, courtesy of our friends Québec Original, Tourisme Laurentides and Tourisme Montréal.
1. Experience the cozy B&Bs of Le P'tit Train du Nord
Valentine's Day may be fast approaching, but we all know true love lasts more than just one day! Why not try a multi-day excursion along the P'tit Train du Nord? Along this 232-kilometre path, you'll find beautiful villages and intimate gîtes – the perfect place to rest and reconnect after a day of snowshoeing or cross-country skiing.
Find the Trail: Parc Linéaire Le P'tit Train du Nord
Photo: Tourisme Laurentides
2. Rekindle your romance with an outdoor workout
Yes, we know – many of us can't face doing sports in cold temperatures. However, the benefits of working out with your date are numerous, especially when it's in Quebec's great outdoors! Snowshoeing or cross-country skiing is ideal for a romantic excursion in nature, and can help improve your motivation and your communication with your S.O.
Alternatively, head to the nearest patinoire, or ice-skating rink. Don't worry about being clumsy in front of your date in fact, you may find yourself falling for each other…
Find the Trail: Parc de la Gatineau, Parc linéaire des Bois-Francs, Lachine Canal National Historic Site
Photo: Francis Gagnon
3. Explore the cobbled streets of Old Quebec
In the shade of the majestic Chateau Frontenac and surrounded by winding streets filled with quaint cafes and restaurants, it seems like Quebec City was made for old-school romance! Start with a stroll around Old Quebec, a UNESCO World Heritage Site, before a horse carriage ride and a candlelit dinner for two.
Find the Trail: Corridor du Littoral, Le Corridor des Cheminots
Photo: Quebec Original
4. Fall in love the old-fashioned way with horseback riding
For a date with a difference, head to St-Basile-de-Portneuf for an equestrian adventure. The quaint Quebec village is home to the Cavalier Trail, a section of The Great Trail that local volunteers have worked years to develop. Plus, horseback riding in Quebec is a one-of-a-kind activity to enjoy on the Trail – making it the experience of a lifetime!
Find the Trail: Région Mauricie
5. Enjoy a romantic stroll in Old Montreal
What better way to impress your Valentine than by strolling the district that features in the romantic Leonard Cohen ballad, Suzanne? Hidden behind the skyscrapers of downtown, this historic quarter is famous for its serene beauty and the splendid façades of its churches and basilica. After exploring the cafes and churches of Vieux-Montréal, take in the frozen Saint Lawrence River by the Lachine Canal, or chill out at the gorgeous Bota Bota spa!
Find the Trail: Axe Christophe-Colomb, Lachine Canal National Historic Site
6. Get an adrenaline rush with snowmobiling for two
If you have a need for speed, why not try snowmobiling on the Trail in Quebec? Offering stunning, snowy scenery, incredible wilderness and high-octane thrills, this is a great option for couples in search of outdoor excitement.
Find the Trail: Parc linéaire des Bois-Francs, Parc régional de la MRC de Lotbinière
7. Indulge in a luxurious dinner together
As much as we love Quebec specialties like poutine and tourtière, Valentine's Day calls for something a little more 'de luxe'. In fact, Montreal offers some very opulent options for that special day. Work up an appetite on a nearby Trail section before treating yourselves to a high-end, Instagram-worthy meal.
Find the Trail: Axe Christophe-Colomb, Axe Notre-Dame
Photo: Tourisme Montréal
8. Dine alfresco at a cute cabane à sucre
Hungry for something a little more rustic this Valentine's Day? Take your S.O. to one of the province's famous cabanes à sucre, or "sugar shacks". A must for any Quebec foodie in spring, these intimate eateries are a romantic alternative to the average date in a café – especially when maple taffy is involved!
Find the Trail: Le Montagnard, Parc Linéaire Le P'tit Train du Nord, La Montérégiade
Do you have any romantic hideaways on The Great Trail? Share your Valentine's Day ideas on Facebook, Twitter and Instagram!