Celebrating Valerie Pringle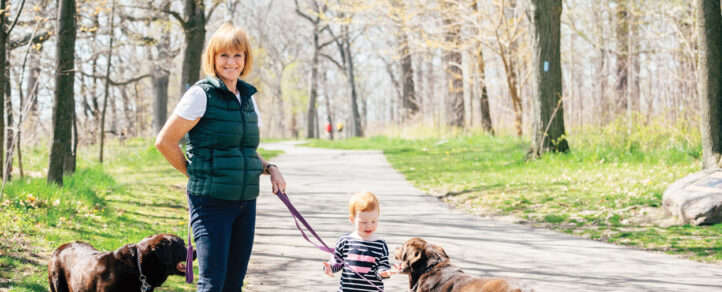 "The greatest project in the history of the world." 
That's how Valerie Pringle has been describing the Trans Canada Trail for decades. It's no wonder that she's dedicated her passion, energy and thousands of hours to seeing it develop and expand across the country.
In 2021, Valerie stepped down as Chair of the Trans Canada Trail Foundation Board, completing 20 years of dedicated service to the Trail. We celebrated her dedication and accomplishments in April 2022.
---

---
Making a dream a reality
Valerie's perseverance, drive and determination – and lifelong love of the outdoors – fueled the development of a national, connected trail. The dream came true in 2017, during Canada's 150th anniversary year. 
Although the Trail is now connected, it is not complete, as new sections are added and existing sections continue to be maintained and updated to ensure they're as safe and accessible as possible for visitors. 
Valerie played an instrumental role in the connection and continued development of the Trail, as well as in building strong philanthropic relationships that contributed to our long-term financial sustainability as an organization. 
---

"Apart from my family, I am most proud of being part of connecting Canada with this iconic Trail. To know that we can use the Trail to connect with nature, one another and ourselves at human speed is priceless. It gives me such joy and satisfaction to know that future generations can follow in our footsteps and that once the Trail is on the ground, it is sacred."  – Valerie Pringle
---
A gift to future generations
Building on her legacy, Trans Canada Trail is poised to forge ahead toward an even brighter future. We are profoundly grateful to Valerie for the incredible foundation that she helped build – one of connectedness from coast to coast to coast.  
In recognition of Valerie's exceptional 20 years of service to Trans Canada Trail, we are proud to announce the creation of the Valerie Pringle Trail Builders of Tomorrow Fund. The creation of this fund ensures that we are able to carry on Valerie's important legacy: to sustain and enhance our national trail for generations to come. 
Thank you, Valerie!

 
Annual Report 2021-2022
Our 2021-2022 Annual Report looks back on the many accomplishments and progress made over the past year, all of which are worth celebrating.